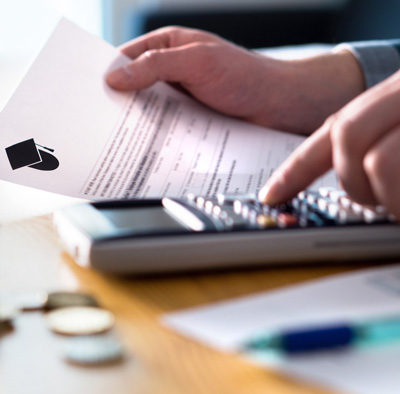 Tuition differs by program and is clearly listed on our website, under the "Tuition & Financing" tab for each program. Tuition for each of our programs is all-inclusive! You'll receive your electronic lesson books, supplements, instructor assistance and career support for graduates—all included in your tuition.
U.S. Career Institute offers an option for hard copy lesson books for all career training programs to provide the best learning experience for each student.
Hard Copy Lesson Books: Here at U.S. Career Institute, we teach to a classroom of one and we know that no two students are alike. Therefore, hard copy lesson books are available for under $50 for career training programs. If you prefer hard copies of your materials, you can easily order them online or by phone after enrolling.
Money-Back Commitment
U.S. Career Institute offers an iron clad money-back commitment to its students. After you receive your materials for the first lesson, you will have a full 5 days to evaluate them. After reviewing a lesson, if you think our program is not the best route for you; you can send the materials back and receive a full refund for the amount paid. No questions asked.
Common Questions
Does U.S. Career Institute offer financial aid?
We are dedicated to helping our students attain a bright future. Helping students avoid the stress of interest-incurring student loans is one of the ways we achieve this. U.S. Career Institute strives to keep our program costs low while maintaining our high academic standards. U.S. Career Institute does not offer financial aid because we offer an affordable monthly payment plan to our students. There is no need to pay off tuition up front.
Will I get a job when I graduate?
Like many walks of life, finding a job can be hard work. Our Certificate and Degree Programs can give you the credentials to get a job in the career field of your dreams. Upon completion of your program, you will receive career support from USCI, forever.
Can I use my military benefits for tuition?
Yes! U.S. Career Institute accepts military benefits, including:
Military Spouse Career Advancement Accounts (MyCAA) benefits*
GI Bill® education benefits
VA education benefits
We also offer a 25% tuition discount to ALL active duty service members, as well as their spouses and to honorably discharged and retired veterans, as well as their spouses. To learn more about military education benefits, click here.
Is there an employee reimbursement program?
You may be eligible for full or partial reimbursement of your tuition by your employer. Students are encouraged to check with their supervisor or personnel department for additional information.
"GI Bill®" is a registered trademark of the U.S. Department of Veterans Affairs (VA). More information about education benefits offered by VA is available at the official U.S. government website at www.benefits.va.gov/gibill.
Tuition and Financing by Certificate, Degree and High School Program