U.S. Career Institute is committed to making your Health Information Technology education affordable, which is why we offer affordable associate degree programs, and tuition payment plans. Your Health Information Technology (HIT) education is an investment that's sure to pay off once you begin your career in the health information technician field or advance your current healthcare career!
Tuition and Charges for the First Semester

Payment Options per Semester: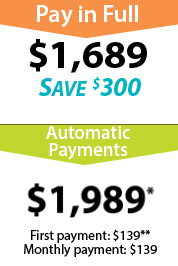 *Plus $40.00 shipping and handling charge.
**First payment includes $24 tuition and $40 shipping and handling and $75 Application Charge. Shipping and Application Charge non-refundable.

Our Health Information technology program consists of four semesters. The total Health Information technology program cost for all four semesters and fees is $8,191, which is $1,989 plus $40 for shipping per semester and a one-time application charge of $75.
What Does Your HIT Program Tuition Include?
Hard-copy or electronic HIT textbooks*
Instructor assistance
Educational supplements
Career coaching for HIT graduates