Health Information Technology Career Outlook
U.S. Career Institute's Health Information Technology degree offers you valuable skills applicable to a growing industry. Health Information Technicians work in hospitals and a variety of other settings, including physicians' offices, nursing care facilities, outpatient care centers, and home healthcare services. The health information career path is one with many benefits, including:
A health informatics salary up to $47,180 per year*
Stable work in the healthcare industry.
Projected growth for medical technology careers of 8% by 2032, according to the U.S. Department of Labor*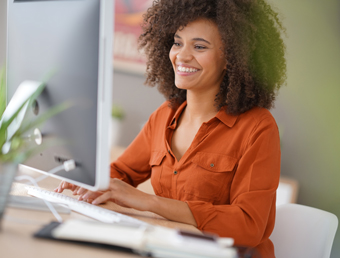 What Is Health Information Technology?
Health Information Technology (HIT) consists of the technology systems that healthcare providers use to manage patient data. It includes electronic health records, e-prescriptions, and tech tools that help patients meet health goals.
What Does a Health Information Technician Do?
Health Information Technician roles and responsibilities include organizing and managing health information data, as well as taking the time to ensure that it's accurate, accessible, and secure in both paper files and electronic systems. HIT jobs involve overseeing all information transmitted through medical technology platforms along with the upkeep of the software.
What are Examples of Health Information Technology?
Health Information Technology includes a variety of electronic methods used to manage patient health information and healthcare. Some examples of health IT positions include: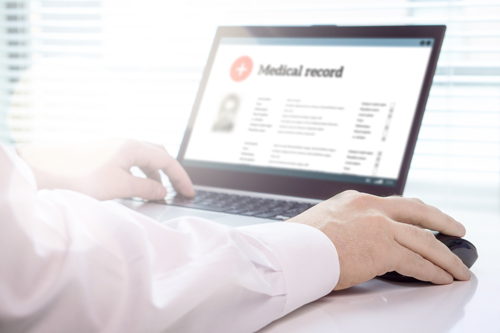 Clinical decision support
Computerized disease registries
Computerized provider order entry
Consumer health IT applications
Electronic medical records
Electronic prescribing
Telehealth
What Is the Importance of Health Information Technology in Healthcare Today?
The benefits of information technology in healthcare cannot be overstated. The impact of health information technology on the quality of patient care has been immense. Technology can reduce human error, leading to fewer mistakes, more accurate records, more accurate data, and overall better healthcare in addition to better education and communication with patients. Health Information Technology is a very important career area in the health field, and by becoming a health information specialist in technology, you can truly make a difference in patients' lives and care.
Is Health Information Technology a Good Career?
Health Information Technology is an excellent career choice because it's highly rewarding and has a primary focus on improving the quality of care for patients in a wide range of settings. This career path also has good earnings potential compared to similar roles in other industries.
What Is the Health Information Technology Job Description?
A health IT specialist's job is to collect patient medical data and record it either in paper records or with computer files. They also review health records and insurance claims to ensure that privacy laws have been complied with. They may also be involved in implementing electronic health record systems at a doctor's office or hospital.
How Will U.S. Career Institute Prepare Me to Find Health Information Technician Jobs?
As part of your Health Information Technology program, you'll complete GE200, Career Development Strategies, in which you'll set goals, explore career opportunities, and learn how to prepare your application materials (résumé, cover letter, and references). In addition to gaining health information technician skills, you'll prepare for interviews and create a job search plan to navigate employment options.
What Kinds of Jobs Can I Get With a Health Information Technology Degree?
Our Health Information Technology degree program prepares students for meaningful careers as medical records and health information technicians. HIT professionals work closely with registered nurses and other professionals in the healthcare field to provide patients with the best care possible. Health information technicians are responsible for documenting a patient's health information, medical history, and treatments, providing nurses and doctors with the important information they need to treat the patient.
What Is the Job Outlook for Health Information Technology?
According to the U.S. Bureau of Labor Statistics, health information jobs are projected to grow 8% by the end of 2032*.
How Much Does a Health Information Technician Make an Hour?
Depending on your location and skill level, the health information technician salary is typically up to $47,180* per year which breaks down to an hourly health information technician salary of $22.43 an hour*. Since these numbers are averages, an entry-level position may start with a lower pay rate that will increase over time and as you advance your HIT career.
How to Become a Medical Records or Health Information Technician
Candidates for a job in Health Information Technology need to have at least a high school diploma or equivalent, but most employers interested in hiring for these openings require formal training and certification and/or an associate degree as assurance that candidates have the skills necessary for creating, managing, editing, and interpreting medical records.
What Are the Top Certifications for Medical Coding and Billing and Electronic Health Records Management?
U.S. Career Institute will pay for your industry certifications!
U.S. Career Institute recommends the CIC® or the CPC-A®. Included with our course, we cover the cost of your industry certification exam! From the list above, you choose any combination of exams, study guides and practice tests – up to $730 value+
National Certification Options for Medical Coding and Billing
National Certification Options for Electronic Health Records
a. National Healthcareer Association (NHA)
b. Requirements: NHA Membership and exam fees. To earn certification you must possess a high school diploma or GED. You must have successfully completed an Electronic Health Records training or apprenticeship program, or have at least one year of supervised work experience in the health field.
c. Recommended: In addition to your Electronic Health Records training, we recommend you purchase the CEHRS study guide prior to taking the exam.
d. USCI Recommended: Yes