100% Online. Take classes on your phone. Study any time. Go at your own pace. Program can be completed in as little as 4 months. Start Today! Medical Assistants are the core of any healthcare business, including hospitals and doctors' offices. As a graduate from this online Medical Assistant school, you will take vital signs, assist doctors and nurses, and work with patient records. The medical field is growing rapidly and so are the job opportunities for Medical Assistants. Your medical assistant training will make you an important part of the healthcare team.
Prepare for your Medical Assistant Certification
In addition to earning your Medical Assistant Certificate through U.S. Career Institute, we help prepare you to become a Certified Medical Assistant. Our medical assistant program is designed to prepare you for nationally recognized Medical Assistant Certification Exams. Certification exams are administered by independent third parties. You are not required to take a certification exam, however, taking this additional step can help you market yourself to potential employers and validate your Medical Assisting knowledge.
Medical Assistant Certification Exams you are eligible to take, and we recommend upon graduating from our certificate program include the Certified Medical Administrative Assistant (CMAA) exam and the Certified Clinical Medical Assistant (CCMA) both offered by the National Healthcareer Association (NHA).
Your CCMA or CMAA exam fees are included in your tuition- up to a $229 value†.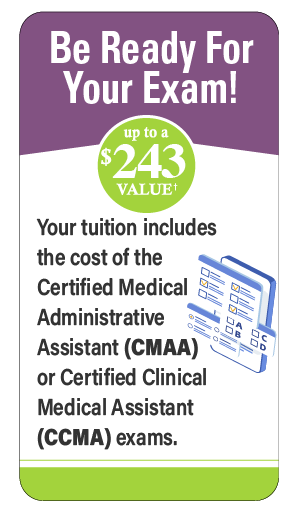 Why Choose Medical Assisting?
Healthcare is huge! The ever-increasing number of patients and hospital admissions is driving growth in healthcare services. It takes a lot of support to provide quality care for so many people.
Employment in the fast-growing Medical Assistant field offers you a wide range of opportunities for excitement, fulfillment and advancement. Every physician's office, hospital, outpatient facility, medical laboratory and nursing care facility needs men and women who know what it takes to help patients, handle records and assist doctors and nurses with the utmost in caring and service. So whether you want a career as Medical Assistant in a hospital, doctor's office, governmental facility or laboratory, this online Medical Assistant school program will start you on the road to your medical assisting dream job in the dynamic, in-demand healthcare industry.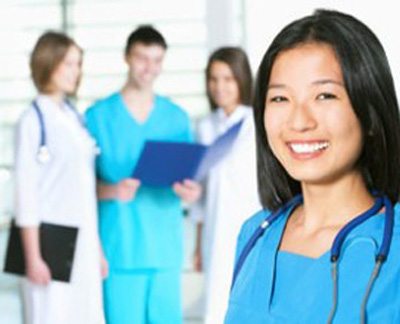 As a Medical Assistant, you'll be a well-respected professional playing a crucial role in the world of healthcare. You will meet fascinating people and find great satisfaction working side-by-side with doctors, nurses and physician assistants. Plus, you can earn up to $35,850 a year* as an experienced Medical Assistant!
Want a competitive edge? Take a look at our Medical Assistant Degree Program with low monthly payments of just $139!
---
---