Home

>

What Do Medical Assistants Do
What Do Medical Assistants Do?
So you've been considering a career in healthcare, and now you're keeping an eye out for a job that fits your goals. You heard the term medical assistant last time you went to see a doctor, but what exactly do they do? We've got all the details on whether or not a career as a medical assistant is the best fit for you!
The Two Sides to a Medical Assistant
A medical assistant plays an important role in a healthcare team by blending both clinical and administrative tasks. Their job is different from most other healthcare careers because they do both direct patient care, like taking vitals, and front office work, like scheduling. Medical assistants can work in most healthcare settings under the direct supervision of a licensed physician, PA (physician assistant), or a number of other certified healthcare providers.
If a medical assistant is working in a small, specialized office like a family practice, their day-to-day job will look different from someone who works in a larger setting. Their specific tasks may depend on a number of different factors! However, their purpose as someone who helps the medical office run smoothly stays the same.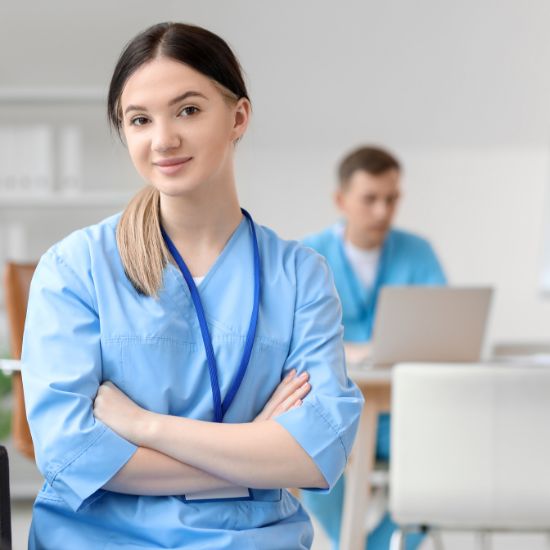 Medical Assistant Clinical Tasks
Being a medical assistant is being at the forefront of patient care. They can be found in places like offices, clinics, and hospitals. Wherever they are, they will be trained to fill in gaps to give patients the best care. Medical assistants are able to perform a large number of clinical tasks, like:
Taking patient medical histories and preparing patients for exams
Assisting a physician during an exam or procedure
Preparing and administering some medications under the supervision of a physician
Explaining and instructing patients on care plans
Collecting specimens and performing basic lab tests
Supporting their specific healthcare team with technical support services
Medical Assistant Administrative Tasks
Often, a medical assistant will be both the first and the last person a patient sees during their office or clinic visit. It is critical for them to be prepared for all aspects of patient care. Becoming a medical assistant means becoming familiar with many topics and being comfortable with having a lot of responsibility! A full list of topics you can expect to learn as a medical assistant can be found on this Medical Assistant Course Outline page.
A medical assistant must be an expert in patient communication because they act as a bridge between the patient and the provider! What are some personality traits that help medical assistants shine in their role? An amazing medical assistant will be organized, an excellent communicator, and computer savvy.
The Demand for Medical Assistants
Are medical assistants in demand? Yes they are! The need for medical assistants is growing rapidly as healthcare offices grow and change. The U.S. Department of Labor predicts an 18% increase in medical assisting positions by 2032. That is well above the average expected job growth of 7.7%. Wherever patients are being seen, there is a need for medical assistants.
Medical Assistant Certification Information
While certification may not be necessary for all medical assistant jobs, many employers require certification to be considered for a job. Credentialing may also vary depending on your location. Being certified helps showcase the high level of support you can offer as a medical assistant!
How to Become a Medical Assistant
Are you ready to start your career as a medical assistant? U.S. Career Institute offers an online medical assistant school that prepares you to take the Certified Medical Administrative Assistant (CMAA) exam and the Certified Clinical Medical Assistant (CCMA) both offered by the National Healthcareer Association (NHA). Once you have completed the program and have passed the medical assistant certification exam of your choice, then you are ready to start applying for medical assistant positions!
---