How to Become a Veterinary Assistant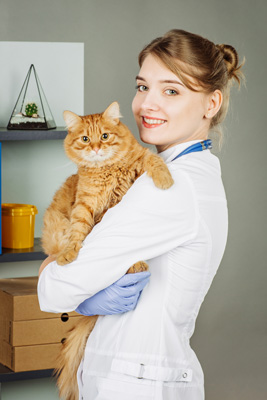 Step 1: Earn Your HS Diploma or Equivalent
Step 2: Get Formal Training through an Accredited InstitutionWhile formal training is not always required, it can be helpful in seeking employment in this field. Veterinary Assisting programs are usually available at the certificate level, with online and on-campus options available. Courses typically cover topics like animal first-aid, medical terminology, and an overview of veterinarian office procedures. Step 3: Start WorkingMany employers will offer on-the job training, but formal education as a Veterinary Assistant will offer applicants an advantage.
What You'll Learn In Your Online Veterinary Assistant Training
Our Veterinary Assistant program is now available with Electronic or Hard Copy Lesson Books! Click here for more information.
Proper Handling and Restraint of Animals
Physical Examination of Animal Patients
Grooming, Manicuring and Bathing
Animal and Medical Terminology
Anatomy, Immunity and Vaccinations
Exotic Animals: Care and Handling
Disease Conditions, X-rays, Preparing for Surgery
Assisting the Surgeon and Postoperative Procedures
Anesthesia for Animals and Giving Medicine
Quarantine, Diets and Dental Care
For the full Veterinary Assistant course outline, please visit our Course Outline page.
Veterinary Assistant Course That Fits Your Life
In as little as four months you can be ready to start working as a Veterinary Assistant. And our self-paced online veterinary assistant school training means you can study anytime, anywhere. With this online veterinary assistant certificate course, there are no in-person veterinary classes to attend and no schedules to keep. Our Veterinary Assistant program will teach you everything you need to know to start working as a Veterinary Assistant' no previous experience needed.