If you are looking for a secure career with a good, steady income, then there's no need to look any further. U.S. Career Institute's online Phlebotomy training school prepares you for a career in a hospital, blood donation center, doctor's office and diagnostic laboratory. Graduates of this online Phlebotomy Technician school will be trained in medical terminology, blood components, blood group systems, vascular anatomy, the cardiovascular system, documentation and reporting requirements. As the healthcare field continues to grow, so does the need for trained phlebotomists who provide skilled and sterile blood draws. You will play an important role in the healthcare field.
Prepare for your Phlebotomy Technician Certification
In addition to earning your Phlebotomy Technician Certificate through U.S. Career Institute, we help prepare you to become a Certified Phlebotomist. Our online Phlebotomy Technician course is designed to prepare you for the nationally recognized Certified Phlebotomy Technician (CPT) exam. Certification exams are administered by independent third parties. The U.S. Bureau of Labor states that most employers will look for Phlebotomy Technicians who have professional certification. You are not required to take a certification exam, however, taking this additional step can help you market yourself to potential employers and validate your phlebotomy knowledge.
Upon graduating from our certification program, we recommend that you take the Certified Phlebotomy Technician (CPT) exam, offered by the National Healthcareer Association (NHA).
Your CPT exam fees are included in your tuition - up to a $200 value†.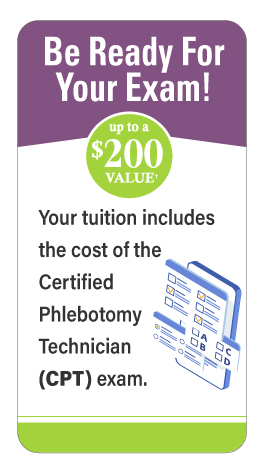 Why Choose Phlebotomy Technician?
Healthcare is booming and so is the need for qualified phlebotomists! The U.S. Bureau of Labor Statistics projects 22% growth by 2030 – much faster than average – for Phlebotomy Technician jobs.
A career in the in-demand phlebotomy field offers you a wide range of opportunities. Phlebotomists are needed to perform bloodwork in blood donation centers, diagnostic laboratories, doctors' offices and hospitals – some even work in mobile blood donation trucks. Blood analysis and diagnoses will continue to be an essential function in hospitals and labs everywhere, keeping the demand for Phlebotomy Technicians high. Whether you want to work in a hospital, doctor's office or blood donation center, our online Phlebotomy Technician school will start you on the road to your dream job in the in-demand healthcare industry.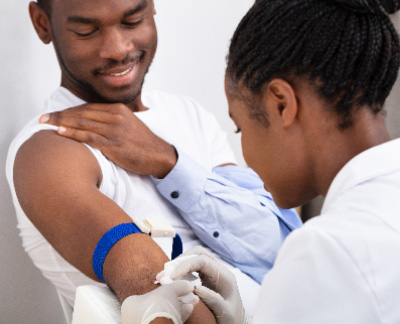 As a Phlebotomist, you'll be a well-respected professional playing a key role in the healthcare industry. You will meet interesting people and find great satisfaction working in the healthcare field. Plus, you can earn up to $37,380 a year* as an experienced Phlebotomy Technician!
Want a competitive edge? Take a look at our Medical Specialties Degree Program with low monthly payments of just $139!
---
---