U.S. Career Institute is committed to making your education affordable. Invest in your education and see the pay-off when you begin your career in the medical field.
Tuition and Charges for an Associate Degree in Medical Specialties:
Per Semester: $1,989.00
Payment Options per Semester:

Payment Options per Semester: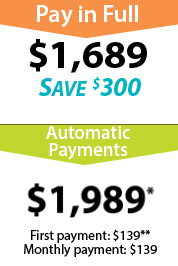 *Plus $40.00 shipping and handling charge.
**First payment includes $24 tuition and $40 shipping and handling and $75 Application Charge. Shipping and Application Charge non-refundable.
Total Tuition and Charges for an Associate Degree in Medical Specialties:
| | |
| --- | --- |
| Cost per semester: | $1,989.00 |
| Shipping and handling per semester: | $40.00 |
| Number of semesters: | 4 |
| Total cost of tuition: | $7,956.00 |
| Total cost of shipping: | $160.00 |
| Application Charge (one-time charge at enrollment): | $75 |
| Total cost of the program before discounts: | $8,191.00 |
Included in Your Tuition:
Electronic or Hard Copy Textbooks*
Supplements
Instructor assistance
Career support for graduates