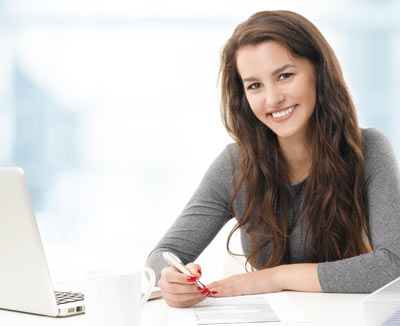 Medical professionals are in demand. And in as little as 16 months, our Associate Degree program for Healthcare Job Training will put you and your skills in demand too!
Our Medical Specialties Associate Degree program will teach you skills in several high demand career fields including Medical Assistant and Medical Coding and Billing, you will also gain the skills needed for Pharmacy Technician and Patient Care Technician careers. Once you graduate, you'll be prepared to sit for nationally recognized industry certifications for Medical Assisting, Medical Coding, Pharmacy Technician and Patient Care Tech.
Your studies for these five prestigious healthcare careers will include patient care, workplace psychology, medical terminology, anatomy and physiology, electronic health records, laboratory techniques, clinical skills and so much more.
Medical Specialties Program Outline
Here are the courses you'll take to earn your Associate Degree in Medical Specialties:
| | |
| --- | --- |
| Semester 1 Courses | Credit Hours |
| GE101 Success Strategies | 1 |
| HM110 Introduction to Patient Care | 2 |
| PY110 Workplace Psychology | 3 |
| HM101 Intro. to Health Info. Technology | 2 |
| MH101 Applied Business Math | 3 |
| HM140 Medical Terminology | 3 |
| | Total: 14 |
| | |
| Semester 2 Courses | Credit Hours |
| HM125 Billing for Reimbursement | 3 |
| CS101 or CS102 Computer Applications | 3 |
| SC150 Anatomy and Physiology I | 1 |
| SC155 Anatomy and Physiology II | 3 |
| EN110 Business Communications | 3 |
| HM160 Medical Office and Records Mgmt. | 3 |
| HM165 Electronic Health Records | 1 |
| | Total: 17 |
| | |
| Semester 3 Courses | Credit Hours |
| SC160 Pathology and Disease Processes | 3 |
| HM200 Pharmacology | 3 |
| HM205 Laboratory Techniques | 3 |
| HM245 Diagnostic Coding | 3 |
| HM215 Clinical Skills | 3 |
| | Total: 15 |
| | |
| Semester 4 Courses | Credit Hours |
| HM265 Inpatient Procedural Coding | 3 |
| GE200 Career Development Strategies | 2 |
| HM225 Pharmacy Technology | 2 |
| HM270 Procedural Coding | 3 |
| HM285 Advanced Coding and Billing for the ICD-10 user | 2 |
| HM290 Law and Ethics for the Healthcare Professional | 3 |
| | Total: 15 |