U.S. Career Institute is committed to making your education affordable, which is why we offer low business tuition as well as convenient payment plans. Invest in your future with one of our low-cost training programs and you're sure to see a payoff!
How Much Does an Online Business Degree Cost?
At U.S. Career Institute, your online Business Management degree cost is less than $2,000 a semester, and you pay even less if you opt to pay in full rather than in monthly installments. Most other two-year institutions offer an online Business Management degree that costs twice as much or more.
Payment Options for Your Associate Degree in Business Management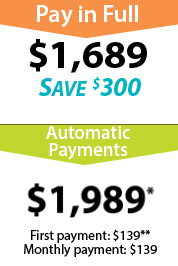 *Plus $40.00 shipping and handling charge.
**First payment includes $24 tuition and $40 shipping and handling and $75 Application Charge. Shipping and Application Charge non-refundable.
Total Tuition and Fees for a Business Management Associate Degree
| | |
| --- | --- |
| Per-semester cost: | $1,989.00 |
| Shipping and handling for course materials per semester: | $40.00 |
| Number of semesters: | 4 |
| Total tuition cost: | $7,956.00 |
| Total cost of shipping: | $160.00 |
| Application fee (one-time cost upon enrollment): | $75 |
| Total program cost before discounts: | $8,191.00 |
Included in Your Tuition:
Instructor assistance
Textbooks (electronic or hard copies)*
Course supplements
Career coaching services for graduates