Medical Assistant Certificate Tuition and Financial Information
U.S. Career Institute is committed to making your education affordable. We strive to ensure the medical assistant tuition cost won't force our graduates to start their new careers with a mountain of debt.
Medical Assistant Tuition: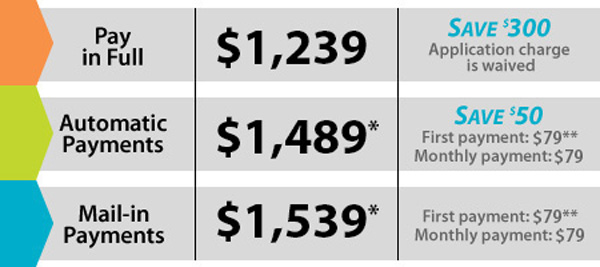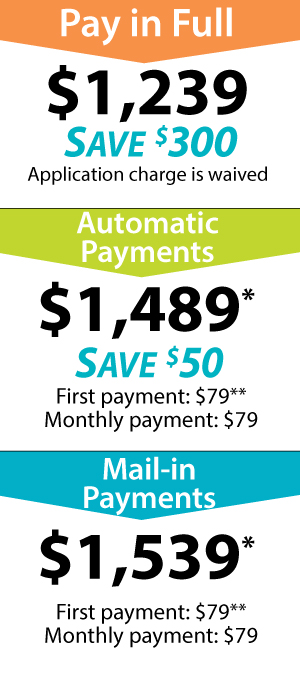 *Plus one-time $29 application charge.
**First payment includes $50 down payment and $29 application charge. Application charge is non-refundable.
U.S. Career Institute Medical Assistant School Cost
Our medical assistant program is designed to prepare students for their career certificate, and certification exams offered by the National Heathcareer Association®. Our training prepares students to take the following certification exams, on average our students pass both of these exams at a higher rate than the national average.
Medical Assistant (CCMA), USCI's pass rate is 85% while the national average is 78%
Medical Administrative Assistant (CMAA), USCI's pass rate is 89% while the national pass rate is 80%
Our low-cost medical assistant training allows you to receive the quality education you need without the burden of traditional student loan debt.
Want a competitive edge? If you're looking for online medical assistant associate degree programs, then take a look at our Medical Assistant Degree Program with monthly payments as low as $139!
Your tuition includes:
Electronic Lesson Books
Supplements
Instructor assistance
Career support for graduates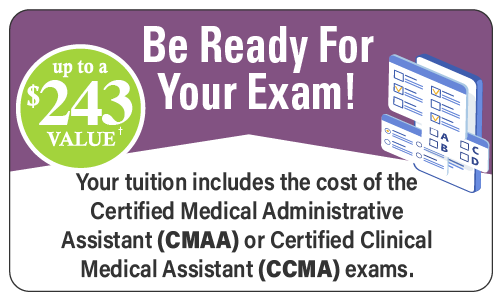 Hard Copy Lesson Books
At U.S. Career Institute, we teach to a classroom of one, and we know that no two students are alike; therefore, hard copy lesson books are available. We offer these for under $50. We know cost is a factor when you are looking to become a medical assistant, so we strive to keep expenses low. If you prefer hard copies of your materials, you can easily order them online or by phone after enrolling.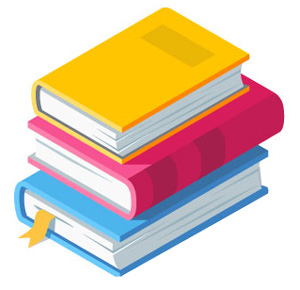 Medical Assistant Education FAQs
How Much Does it Cost to Become a Medical Assistant?
When studying to become a medical assistant, the cost depends on the type of institution you attend and for how long. In many instances, once students have finished their MA program, they have to pay for the cost of the certification exam. U.S. Career Institute is different, we pay your CMAA or CCMA certification exam fees, clearing the path to success for our students.
What is the Cost of a Medical Assistant Course?
Medical assistant tuition costs vary depending on the type of schooling you prefer. A certificate program at an accredited institution has a price that varies from about $1,000 to $3,000. You could also choose to pursue a medical assistant degree, over a certificate program. Check out our medical assistant associate degree program to learn more.
How Much Does a Medical Assistant Get Paid?
According to the U.S. Bureau of Labor Statistics, the medium annual wage for a medical assistant is $37,190*. Once you've finished your medical assistant program, you'll be poised to earn a competitive income.
Is it Hard To Be a Medical Assistant?
Being a medical assistant is a challenging and rewarding career. It offers a better work-life balance than many other health careers, and these professionals enjoy the opportunity to positively impact patients in the middle of a medical emergency. U.S. Career Institute can help you get your new career off the ground. The cost for our program is designed to be as flexible as your course load, so you can get a quality education without breaking the bank. When you finish the medical assistant program, you'll be ready to take the CCMA or CMAA certification exam and get started as a medical assistant where you'll be an invaluable member of a medical professional team.
Sources: https://www.edsmart.org/medical-assisting/become-a-medical-assistant-online-in-6-weeks/