By Mariama
The healthcare industry is expanding and that means more doctors, physicians, nurses, CNA's, assistants and capable staff are needed.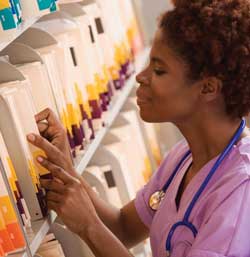 As a medical billing and coding specialist you will always have new information to learn. Your career will be in demand, healthcare positions are and will be in demand as long as there are people. Other benefits include the schooling for this career, mostly entails self-paced courses. It also includes great pay around $39,000 per year, and you can choose to work from home. Not to mention, this entry level position contributes to your ever increasing medical knowledge to prepare for other roles in the healthcare field!
It doesn't seem there will be a shortage of positions available in the healthcare field, which is good news for students with healthcare career aspirations. And the healthcare field is always changing. That means that information and technology constantly develops making it so the medical billing and coding specialist is always learning. New medicines, conditions, treatments and people cause a revolving door of change. Looking that range of new terms up on the internet will be a daily task.
What does someone do in case of an emergency out of their control? Quick, think fast. I hope you said call 911 because that's exactly what most would do. When your child is sick and coughing uncontrollably, what do you schedule? That's right, an appointment at their primary care physician. Hospitals often have volunteer opportunities and student volunteers who want to be in the medical field someday. All of these examples illustrate how much the average family or individuals rely on healthcare. Healthcare needs a support staff as long as it is in effect. That means as a medical billing and coding specialist, your job will be secure!
Achieving a certificate in this career field, I'm certain, has been no easy task. However, self-paced study made the course that much more convenient and rewarding! I've been in this field of study at USCI for a year now and I was given ample time to read the chapters and review. This has made a positive impact on my grades for the course rather than rushing through the process. You probably are learning much better as well.
Many occupations today allow you to work from home. If the necessary requirements are met then you will be at home and on the job simultaneously. Granted you still must act like you would in the office but the benefit is it's your home office. It also helps persons who aren't physically able to go to work and still need to make a living.
In conclusion there are so many personal reasons that may lead one to this career path. Still there are general reasons that remain. Some, I've mentioned here. Always expect to learn new information if you are in this career field. Healthcare is in high demand and in need of capable staff members and medical billing and coding specialist. And at USCI you can obtain self-paced courses and support to reach your career goals!