Home

>

USCI Celebrates 40 Years of Education
USCI Celebrates 40 Years of Education Excellence
By: Holly Cook
Fort Collins, CO July 19, 2021 – U. S. Career Institute, a provider of affordable online certificate and degree programs in high-growth fields is celebrating its 40th anniversary in July. Over the course of four decades, U.S. Career Institute has empowered thousands of men and women through education and training. With self-paced certificate and degree programs, their aim is to enrich student's lives and help them reach their career goals. They deliver affordable, quality distance education at their DEAC accredited online training school.
In honor of this milestone, U.S. Career Institute is celebrating with an Anniversary Savings Special. Students who enroll by Friday, July 23rd will get 25% OFF the cost of their tuition—a savings of up to $723. Those wishing to inquire about the Anniversary Savings Special can go to https://www.uscareerinstitute.edu/ for details.
For school history, photos, timeline, and student testimonials over the years, you can visit U.S. Career Institute's Anniversary page at https://www.uscareerinstitute.edu/promo/usci-40th-anniversary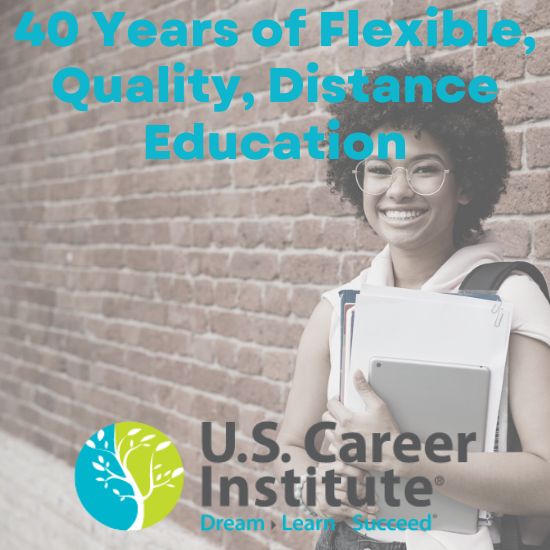 "I am honored to be part of this company, U.S. Career Institute has always offered training in professional careers that are in-demand, with exceptional customer service at the forefront of all decisions. From day 1, 40 years ago this company has never wavered from that goal. Their mission has changed slightly to offer distance education, but the focus on quality, affordable, flexible, real-world career training with exceptional customer service has remained consistent over 40 years of business." Holly Cook, U.S. Career Institute Employee for 20 years.
In addition to their new Sterile Processing Technician certificate, USCI offers many healthcare training opportunities for high demand occupations including Medical Assistant, Medical Coding and Billing, Pharmacy Technician, Dental Assistant, and Patient Care Technician to name a few. They have trained thousands of students over the years for in-demand, professional careers.
About U.S. Career Institute
Offering high quality, affordable and career-focused distance education, U.S. Career Institute has helped thousands enrich their lives and reach their career goals. Weston Distance Learning, U.S. Career Institute's parent company, has 40 years of experience in distance education, beginning in 1981. U.S. Career Institute is accredited by the Distance Education Accrediting Commission. The Distance Education Accrediting Commission is listed by the U.S. Department of Education as a recognized accrediting agency. Because of this, USCI's curriculum, faculty, administrative procedures, and policies are frequently reviewed to ensure that USCI continues to meet high standards of quality and service. For more information on U.S. Career Institute, please visit www.uscareerinstitute.edu