By: Tiffany
I am a current Medical Coding and Billing student at U.S. Career Institute. I chose the Medical Coding and Billing program because I desire to have a more lucrative career to help support my family. In addition, I wanted to be able to utilize many of the clerical skills I already possess and add some additional specialized training to become more marketable. I also desired to enroll in a program that I could complete in short amount of time and that would give me the opportunity to work from home. After reviewing the website and speaking with Student Services, I decided that U.S. Career Institute's Medical Coding and Billing program would help me reach my desired goals.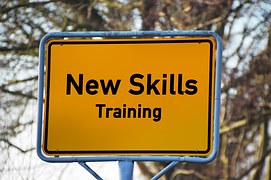 My current list of skills include being detail oriented, accurate and efficient, and working well as a team or independently. These are skills that can be applied and utilized in any almost any field. In addition, I am gaining new skills and training from the Medical Coding and Billing program to become even more marketable.
The length of time in which this program could be completed was very impressive to me as well. Of course, you get out of it what you put into it, but the power is yours. The self-paced option is a wonderful option for me. It allows me to work school around my schedule and family obligations. I set aside a time each day that works best for me. I did not want to spend two years completing another program. Consequently, I am happy that this program can be completed in as little as four months. It just depends on how much time I have to devote to my studies each day. U.S. Career Institute's self-paced program allows me to determine how soon I complete the program.
The opportunity to work from home was also very exciting to me. I have always wanted a legitimate work from home career. Many work from home careers are legitimate but not very lucrative. Therefore, I was thankful to find that there are opportunities to work from home in the Medical Coding and Billing field. I have been researching the job market to see what it looks like in my area. I have found that some employers will allow you to work remotely, but they do require a certain amount of experience. On the other hand, some only require that you complete a certain amount of on-site training before being able to work remotely. It just depends on the employer.
What are your reasons for choosing the Medical Coding and Billing program?
Have you done any research on this field? Have you spoken with anyone currently working in the occupation you are considering? If not, I encourage you to do so. I am still in the process of doing so myself. I am gaining more insight as to what my career choice entails. You might find that you already possess many of the characteristics necessary to be successful in the field of your choice.
U.S. Career Institute also offers online associate degrees to prepare you for many other great careers
Are you extremely reliable and disciplined? You might find satsifaction with a career in accounting. Take a look at our online accounting associate degree program, or our online business management course. In addition to business programs, we offer several other associate degrees that may hold more interest for you. We invite you to investigate our online health information technology associate degree, our online human resources associate degree, our online electronic medical specialties associate degree, our online social work associate degree, or our online entrepreneurship associate degree.