Today's technology allows students to use a number of tools that were unavailable in years past. These new study aids include audio CDs and apps that can be used on both computers and smartphones. But there are other ways to enhance your learning experience, too. There are a variety of study tools that all of us use. Some of them are more common than others. For example, math students might use a calculator, ruler and compass. Reading glasses can be helpful for reading and/or deciphering items in fine print such as numbers and codes.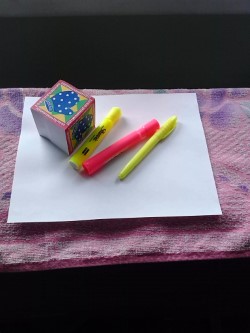 Some of the more popular or common study aids include the following:
● Highlighter pens
● Post-it notes or Sticky notes
● Recipe cards
● Bookmark/Ruler
● Maps
Highlighter pens—These pens or markers come in a variety of shapes and colors such as pink, yellow and blue. I prefer the yellow highlighter pens because there is less smearing of ink and you can still clearly read the text that is highlighted.
Post-it notes or Sticky notes—These can be used in a number of different ways. For instance, they can be used to mark pages in a book. Sticky notes can also be used to write down pertinent information or even to add facts/details from other sources in addition to those provided in a textbook.
Recipe cards—These can be used to write notes for a research paper or just to take notes in general. When you write things down on recipe cards, you can shuffle your information around and even sort your information to form an outline. Recipe cards can also be used to make flashcards.
Bookmark/Ruler—A bookmark or ruler can be used to aid in reading. This might enable a student to concentrate and remain focused, thereby allowing for better retention of the lesson material.
Maps—There are all kinds of maps these days. These can serve as useful study tools because they can help students to visualize what they are reading about. Maps can help to put things in context and they enable students to make sense of the material they are studying.
There are other resources that can be used as study aids as well. These include actual flashcards, work-books and supplemental worksheets designed to help students to master new material. All of these items can be helpful.
Everybody studies differently. Determine what study aids work best for you and stick with them!
U.S. Career Institute also offers online training for many other great careers
Do you like serving people in need? You might find satsifaction with a career as a medical assistant. Take a look at our online medical assistant program. If business holds more interest for you, you should investigate our online accounting course, our online bookkeeping course, our online insurance claims adjuster course, or our online office administrator course.