By Mariama
Between caring for myself, working and school, I relish in the time between study periods. Like many hard workers, I tend to think, "I deserve it!" when it comes to a nice study break. During the infamous study break there is time to take a nap, grab a bite to eat or just take a five to ten minute absence from learning.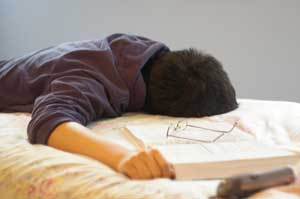 One study I came across says would be best for students to do something productive while taking a study break, like paying bills or writing out a-to-do list. These are just a couple of productive ways you could use your time during a short study break. When taking an extended break, I'm sure you can think of various ways to spend your time; watching a documentary, exercising, cooking, or catching up on my sleep are just some of the things I do on extended breaks.
Study time is pivotal to your work ethic, which means you need to know how to study properly. You should try to study for up to one hour at a time. After an hour you should take a five to ten minute break, and then continue where you left off. This is so you won't clutter your mind with too much information at once, and you'll remember more, won't get restless and will study longer. The time that you take to either rest or pause from educational activity will allow your information recall to strengthen. You can even take a quick catnap and it may allow you to study more intensely afterward. Sometimes I fix a snack, or what I consider "brain fuel," during the break. Or take an absence from your studies by listening to different songs on your music channels. You can even do crosswords, take a run, or watch an episode of a funny TV show.
I like to watch medical documentaries on my tablet or other things that will help me forget studying for a while. It is also important that I exercise weekly, so that's something I turn to during breaks, too. All in all, I do these activities on extended or sometimes short breaks. Finally, when I crash, or fall asleep for the night, I feel like it is well-deserved after a day of studying. It may just be closing my eyes and resting my head on a pillow or going into a deep sleep. Whatever the case, I know that I had better set my alarm to return to my studies on time.
After all is said and done, you now know the basics for taking a break when you study. And remember the recommended study break is five to ten minutes, but it can be longer. Your information recall will get better when you set your materials aside, close your eyes for 10 minutes and then return studying!
U.S. Career Institute also offers online training for many other great careers
Do you like animals? You might find satsifaction with a career as a veterinary assistant. Take a look at our online veterinary assistant program. If healthcare holds more interest for you, you should investigate our online dental assistant course, our online medical coding and billing course, or our online pharmacy technician course.