A Medical Coding online Certification from U.S. Career Institute will help you get started in an in-demand healthcare career. Our Medical Coding program will show you how to translate patient diagnoses, procedures and visits into medical codes. There is a medical code for everything from a common cold to a broken arm and beyond. You will assign these codes and help connect doctors, patients, hospitals and insurance companies. The US. Department of Labor projects the medical and coding career outlook to see growth up to 9%, from 2020 to 2030.*
Medical Coding Career Outlook & Salary
Earn up to $45,240 a year*
Work full-time or part-time
Work for doctors, hospitals or clinics
Work from home after you gain experience
Be a part of the secure, growing healthcare industry
The US. Department of Labor projects the growth for Medical Coding jobs to increase by 9%, from 2020 to 2030.*
Medical Coding Certification
Upon graduation from our program, you will receive your U.S. Career Institute Certificate of Completion attesting to your accomplishment. U.S. Career Institute's online Medical Coding certification program will prepare you to take a Certification exam of your choosing. You are not required to take a certification exam, however taking this additional step will help you market yourself to potential employers and validate your knowledge in Medical Coding.
USCI Career Coach Program
We invest in you-up to $400 Value**
After completing your certificate course, our Career Coach Program is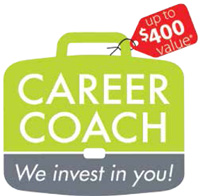 an included benefit that will give you one-on-one access to a Career Coach Advisor. Our course and Career Coach Program can prepare you with the skills needed to help you start your new career. Read about the program's requirements and guidelines in the Career Coach Program Outline.
Want a competitive edge? Take a look at our Medical Specialties Degree Program with low monthly payments of just $139!