By: U.S. Career Institute
Once, working from home was the occasional reality for a few. Now, remote work has seen a steady and lasting increase for many Americans — and not just for those established in the job market, but for those entering it as well. There have been several studies published on the employee outcomes of remote work, as well as the benefits that working remotely can provide. However, it can be hard to know where and how to start a brand new remote position. Below, we're rounding up some common entry-level remote positions, as well as some established career opportunities that allow you to work remotely.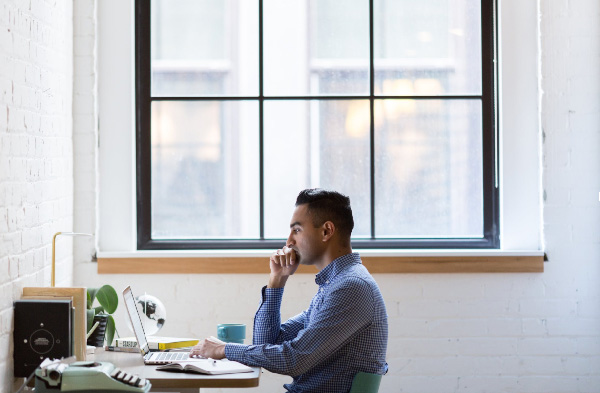 Entry-Level Remote Jobs
According to the Bureau of Labor Statistics (BLS), 29% of workers could work remotely in their primary job in 2017-18. This shows us not only proof of an increase in people working from home in the last few years but an increase in remote work opportunities themselves. Here are some of the best remote jobs at an entry-level.
Call Center Representatives
If you have reliable internet and phone service, chances are you can apply to be a call center representative. There are a wide range of industries that call centers can cover, and they often offer flexible full and part-time shifts ideal for those looking for a side job, or needing to fit work around other obligations. In 2019, the BLS reported the average hourly wage of call center representatives at $16.69.
Administration and Virtual Assistant Positions
Virtual assistants and administrators can be hired directly by a specific company or firm or contracted out by third-party companies. Virtual assistants handle a lot of the same tasks that in-office assistants do, including but not limited to:
Phone calls;
Scheduling;
Light data entry;
Emails.
The BLS reported $19.18 as the hourly wage for administrative assistants in 2019.
Customer Service Representatives
It is common for online retailers to hire remote customer service representatives to handle customer questions, account maintenance, and other resources like helplines or chat rooms. Like call centers, these retailers often only require their customer service representatives to have a strong internet and phone connection and can offer flexible scheduling. The median hourly wage for customer service representatives in 2019 was $16.69 according to the BLS.
Sales Jobs
Online retailers may also employ remote sales personnel to guide and facilitate the purchasing process. This can take many forms across many different sales platforms. Online retailers that offer a personalized shopping experience or sell complex or sensitive items or services that may require assistance in purchasing may employ remote sales associates. The BLS reported the hourly wage for sales associates in 2019 at $12.23.
Data Entry and Transcription
Another remote work opportunity that can take many forms is data entry and transcription. From cataloging to transcribing, there's a wide range of duties that a transcriptionist can have. To be successful in this position, you will need a reliable internet connection, and you may be asked to take a typing accuracy test. Data entry keyers can earn a range of salaries depending on their industry and employer, but BLS data shows this class of professionals averaging $34,820 per year.
Remote Careers
If you're looking for a sustainable career that allows you to work remotely, you will likely need to finish some kind of postsecondary education. Many remote careers are in specialized fields, and having a higher level of training can open the door for more flexibility, a higher level of responsibility, and higher pay. Here are some careers that allow you to work remotely.
Medical Billing and Coding
The field of healthcare covers a large scope when it comes to types of jobs available. One of the rare jobs in the healthcare field that can be done remotely is as a medical billing and coding specialist. Once you finish your career training, you will be able to be employed as a billing and coding specialist, processing highly sensitive and important information that sets up healthcare providers and patients for success. In 2019, the average yearly salary for medical records and health information technicians was $40,350.
Computer Programing
Computer programming has been a highly popular career in the last few years, due to the rise of complex programs and technology use in our everyday lives. In order to become a computer programmer, you may need a bachelor's degree and a strong, reliable internet connection. You may need further specialized equipment, depending on your employer's requirements. The average yearly salary of a computer programmer in 2019 was $86,550.
Software Developer
Similar to computer programmers, software developers have become an integral part of technological society. Software developers can work in a range of fields, from gaming tech to medical supplies. Software development is where creativity meets code, and according to the BLS, the median pay for software developers in 2018 was $105,590 per year.
Teaching and Tutoring
Online career training, at both the high school and college level, has become more popular as people are seeking programs that work with their schedules and learning needs. While you don't need a higher education to become a tutor in some instances, you will need a teaching certification to be employed as a teacher by any accredited school. There is no specific salary data reported by the BLS for remote teachers and tutors, however, they reported teaching assistant salaries, which share some of the same training requirements, at $27,920 per year.
Accountant
Both contracted and independent accountants can enjoy the perks of working remotely. Accountants typically need an associate degree or certificate to get started in the field, and the equipment you need will depend on the demands of your client base. Those interested in accounting may also enjoy seasonal flexibility, as the demand for personal accounting rises during tax season. The BLS reported yearly salaries for entry-level accounting, bookkeeping and auditing clerks averaged around $41,230 in 2019.
Marketing Manager
Project management tools and collaborative applications allow marketing managers to do their work remotely. The ability to access social media, email, and any point of sale or blog apps reliably and efficiently will be integral to your job. Marketing managers often possess a bachelor's degree, and can also work with a brand or on a contract basis. The BLS reported themedian yearly salary for marketing managers in 2019 at $135,900.
Freelancing
If you're looking for something more entrepreneurial, then you might consider freelancing. There are a nearly endless amount of remote freelance trades, including but not limited to:
Writing;
Editing;
IT repair;
Tutoring;
Accounting;
Crafting and artistry.
Freelancing allows you the flexibility to determine when and how you want to work, and there are countless resources available — including other freelancers — to help you start your trade. Your salary as a freelancer will entirely depend on the market you are entering, however, Business News Daily has gathered research about some freelancer salary data.
Remote work can be a great resource for those needing to prioritize balance and scheduling, for those wishing to make their own schedules, or for those who want to be their own boss. If you want or need to turn to remote work, then hopefully this guide can help you on the right track, no matter your level of experience or training.