Start a rewarding new career in the healthcare industry with a course from our online medical coding school! As a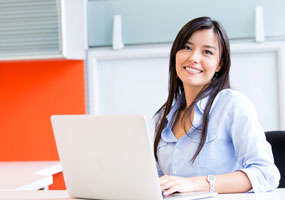 Medical Coding Specialist, you'll help connect doctors, patients, hospitals and insurance companies. Without trained Medical Coders who can translate every diagnosis, procedure and supply into a handy code, the healthcare industry would come to a stand-still. And because nearly every visit to the doctor or hospital requires properly coded documentation, the demand for Medical Coding Specialists continues to grow.
Why Choose Medical Coding?
Earn up to $39,000 a year*
Work in the secure and growing healthcare industry
Work at home in medical coding or work for an employer
Full or part time
Choose your own hours
High demand career
Healthcare is growing at a higher rate than most industries – and the increased number of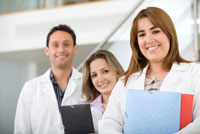 patients and hospital admissions means more work for Medical Coding Specialists. Plus just think of the satisfaction you'll get working with doctors and other professionals in the medical field. As a Medical Coding Specialist, you will be a vital part of the medical team!
Medical Coding Specialists are in demand – and their medical coding salary shows it. Experienced Medical Coding Specialists earn up to $39,000 per year.* With skill and experience you could earn a great income with a medical coding job like top coders do! And many Medical Coding Specialists work from home via the internet or enjoy the luxury of choosing to work full or part time.
What You'll Learn During Your Online Medical Coding Training
Our online Medical Coding program is now available with Electronic or Hard Copy Lesson Books! Click here for more information.
How the human body works…Master anatomy and physiology
How to speak the language…Explore medical terminology and pronunciations
How coding impacts healthcare…Learn how medical procedures and diagnoses are coded
How to work like a professional. Discover how coders use coding software and the internet to boost their productivity and earnings
For the full Medical Coding course outline, please visit our Course Outline page.
Medical Coding Program That Fits Your Life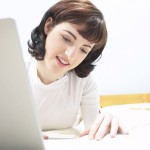 In as little as four months you can be ready to start making $39,000 a year* as a Medical Coding Specialist. And our self-paced online medical coding training means you can study to become a medical coder anytime, anywhere. With this online medical coding certificate course, there are no in-person medical coding classes to attend and no schedules to keep. Our Medical Coding program will teach you everything you need to know to start working as a Medical Coding Specialist…no previous medical experience needed.
Medical Coding Program Tuition and Financing
We strive to ensure our online Medical Coding school course is both flexible and affordable. This is why we offer low monthly payment options for every student. We are committed to providing you with a high-quality education at an affordable price. Make an investment in yourself today!
For more information, please visit our Tuition and Financing page.
Join the thousands who have trained with U.S. Career Institute. Get started on your online medical coding program today and be ready to work in as little as four months!