Essential Components of a Top-Notch Study Area
Essential Components of a Top-Notch Study Area
Updated: 1/26/2023
By: Jordin Landen
Taking classes online has a lot of benefits. From being able to do it when you have time in your schedule, to complete a program as quickly or slowly as you wish. One thing essential to succeeding with an online education program is ensuring that the space you are using is properly set up for learning.
There are a lot of things you can do to foster your learning environment, but we have put together a list of 7 things we have found to make the biggest impact on preparing you to focus and learn when you sit down to complete your program!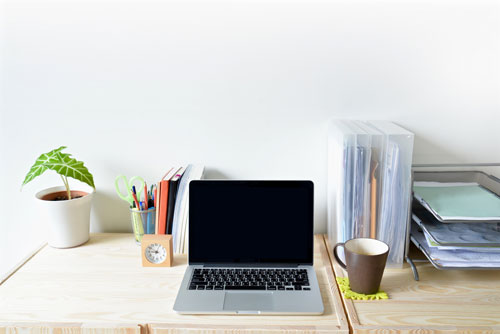 7 Tips For Your Study Area
Make it Tidy: So you won't be tempted to stop studying and clean up if you commit to keeping the space organized. After each study session, take a couple of minutes to return everything to its designated place and throw away any trash! On a related note, make sure you have everything you need to study before you sit down and get to work. Nothing can kill your motivation like getting up to grab something and then getting distracted!
Block Out Distractions: You've heard this time and time again, but it will always ring true! Silence your phone. Log out of your email and Facebook accounts. Let the rest of your family know you're in the study zone. Minimize every possible distraction you can think of so you can focus solely on your schoolwork!
Prepare Something to Drink and a Healthy Snack: This way you won't need to stop your thought process and study flow to get up and fix yourself something. Have it all ready right there at your desk! Looking for some awesome healthy snack ideas? Check out our blog "10 Study Snacks to Satisfy Your Cravings" to get some inspiration!
Set up your Study Calendar: Put it in a highly visible space. One of the best ways to stick to your goals is to schedule out your month. Include which lessons you will complete every day and when you will take your quizzes. You're bound to get off track sometimes, but don't let that deter you. Catch up then stick to your schedule!
Study Where You Have Natural Light Exposure: Consider also adding a few plants. These natural elements can keep you content and motivated in your space. You'll be more likely to stay productive while studying and be willing to put in those extra hours when need be! Plus, it's just more enjoyable to spend your time in a light, bright area versus dark and dingy.
Invest in Comfortable Seating: You're going to be spending a whole lot of time in your study area, so pick out a comfortable and ergonomic chair. The last thing you want is to do your body damage by sitting long hours in an uncomfortable and potentially harmful seat. Don't forget to stand up and stretch it out from time to time, too! We recommend getting up and walking around while working on terminology or using a set of flash cards.
Display Your Inspiration: Consider creating an inspiration board and hanging it up near your study area. Include your favorite inspirational quotes or photos related to your future career. You can even add the colors you find most motivating (we recommend blue and green!) or images of your goals – think photos of where you'd like to go on vacation one day or your dream house. Having your inspiration and motivation front and center while you're studying is a great way to stay on track with your goals!
These are just a couple of the ways that you can design your study space to help you succeed. Beyond creating a productive space, it is also important to have the right study tools and to find a study method that works for you.
---
U.S. Career Institute also offers online training for many other great careers
Do you like animals? You might find satsifaction with a career as a veterinary assistant. Take a look at our online veterinary assistant program. If healthcare holds more interest for you, you should investigate our online dental assistant course, our online medical coding and billing course, or our online pharmacy technician course.