Massage Therapists bring the benefits of health and relaxation to millions of people all across the country. This career will allow you to make a living out of helping others feel better. As a Massage Therapist, you can choose the flexibility of being your own boss and working your own hours. The U.S. Department of Labor projects the growth for Massage Therapist jobs to increase 32% by 2030.*
Growth Potential & Career Opportunities
Earn up to $46,910 a year!*
Work for a company or be your own boss
Work from home or in a workplace setting
The U.S. Department of Labor projects the growth for Massage Therapist jobs to increase 32% by 2030.*
Certification
U.S. Career Institute's Massage Therapy program prepares you to take the Massage and Bodywork Licensing Exam (MBLEx)** administered through the Federation of State Massage Therapy Boards (FSMTB). Included in the Massage Therapy program, we cover the cost of your MBLEx exam through the FSMTB - $265 value†. Optional study prep materials are available for purchase on the FSMTB website. These are not required to take the exam, but will likely help you be better prepared. These optional purchases are not covered by USCI.
State Requirements
A career in this field may require you to meet certain licensing, training, and other requirements that can vary by vocation and state. You should check with your state, local government and/or licensing board to find out which requirements may be applicable in your state.
IMPORTANT State Licensing Requirements: Click here for more information.
USCI Career Coach Program
We invest in you-up to $400 Value**
After completing your certificate course, our Career Coach Program is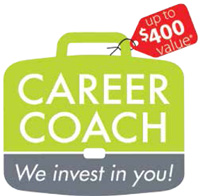 an included benefit that will give you one-on-one access to a Career Coach Advisor. Our course and Career Coach Program can prepare you with the skills needed to help you start your new career. Read about the program's requirements and guidelines in the Career Coach Program Outline.