Build the skills you need to start a rewarding new career as an HVAC Technician with USCI's online classes and training program. HVAC jobs can be found in homes and businesses everywhere. As an HVAC Technician, you will play a vital role in creating a healthy environment for your customers. Choose whether you will work for yourself as an independent contractor or for an HVAC company. The U.S. Department of Labor projects about 380,000 total HVAC technician jobs by 2030*.
Jobs you could pursue after graduation can include:
HVAC Technician
HVAC Installer
Refrigeration Mechanic
Refrigeration Transporter
Refrigeration Technician
Growth Potential & Career Opportunities
Earn up to $48,630 a year!*
Work full-time or part-time
Be a part of an in-demand industry
The U.S. Department of Labor projects the growth for HVAC Technician jobs to increase 5% by 2030.*
Certification
Upon graduating from our HVAC online classes and training program, you will receive your U.S. Career Institute Certificate of Completion attesting to your accomplishment. U.S. Career Institute's Online HVACR Technician program prepares you to sit for EPA 608 certification exams. Included with our training program, we cover the cost of your EPA 608 certification exams – Up to $85 value†. USCI encourages graduates to review the EPA 608 test prep materials that are included at no additional cost. To earn EPA 608 certifications, you must possess a high school diploma or GED.
State Requirements
A career in this field may require you to meet certain licensing, training, and other requirements that can vary by vocation and state. You should check with your state, local government and/or licensing board to find out which requirements may be applicable in your state.
IMPORTANT State Licensing Requirements: Click here for more information.
USCI Career Coach Program
We invest in you-up to $400 Value**
After completing your HVAC Technician certificate course, our Career Coach Program is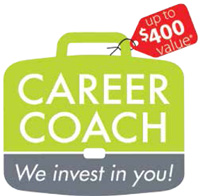 an included benefit that will give you one-on-one access to a Career Coach Advisor. Our course and Career Coach Program can prepare you with the skills needed to help you start your new career. Read about the program's requirements and guidelines in the Career Coach Program Outline.
Plan to start your own business? Take a look at our Entrepreneurship Degree Program with low monthly payments of just $139!