Reasons to Become an HVAC Professional
By: Katelyn Fahrenbruck Weston
If you're looking for a new career and you want something with stability, opportunities for long-term growth, and you're not afraid of a little hard physical work, you may want to consider pursuing a career as an HVAC professional!
HVAC stands for Heating, Ventilation, and Air Conditioning. HVAC technicians are professionals who specialize in installing, repairing, and maintaining these systems. While some people may think that becoming an HVAC technician is not as glamorous as other careers, there are several reasons why it can be a fulfilling and rewarding profession.
It's a growing career field with a low turnover rate
There is no formal education required
Job opportunities exist all over the country
You'll learn skills you can use forever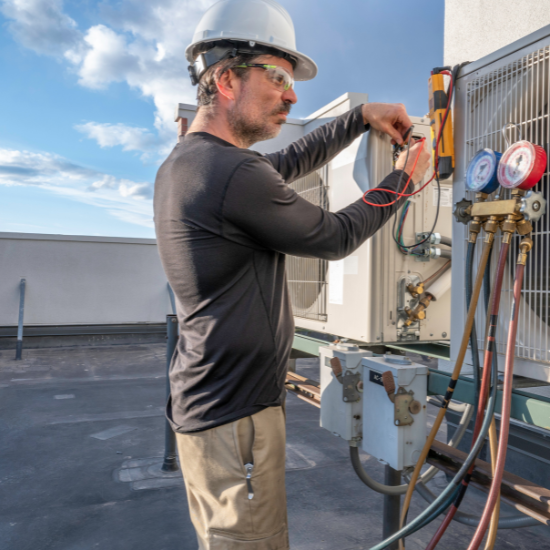 High Demand Career
HVAC technicians are always in demand. With the growing population and urbanization, there is a constant need for climate control in homes, offices, and other commercial spaces. Additionally, the increasing focus on energy efficiency and environmental sustainability has created a demand for technicians who can install and maintain energy-efficient HVAC systems. As a result, HVAC technicians enjoy a stable career with good job security.
HVAC technicians have the opportunity to work in a variety of settings. They can work in homes, commercial buildings, hospitals, schools, and other public facilities. This means that HVAC technicians can choose to work in an environment that suits their preferences and interests. For example, some technicians may prefer to work in hospitals, where they can help maintain the optimal temperature and humidity levels for patients. Others may enjoy working in large commercial buildings, where they can work on complex HVAC systems.
Opportunities to Grow
HVAC technicians are always learning. The HVAC industry is constantly evolving, with new technologies and techniques being developed all the time. This means that HVAC technicians must stay up-to-date with the latest industry trends and innovations. As a result, they have the opportunity to continually learn and develop new skills. This can be especially appealing for people who enjoy a challenge and are interested in science and technology.
HVAC technicians can enjoy good earning potential. According to the Bureau of Labor Statistics, the median annual wage for HVAC technicians was $50,590 in May 2020. This is a respectable salary, especially considering that many HVAC technicians do not require a four-year college degree. Additionally, HVAC technicians can increase their earning potential by specializing in certain areas, such as commercial HVAC systems or energy-efficient systems.
A Career You'll be Passionate About
Are you passionate about helping other people in your communities? HVAC systems play a crucial role in keeping people comfortable and healthy. When a heating or cooling system breaks down, it can cause discomfort, inconvenience, and even health problems. HVAC technicians have the skills and knowledge to diagnose and repair these problems, ensuring that people have access to safe and comfortable living and working spaces. This can be very rewarding for people who enjoy helping others.
Finally, becoming an HVAC technician can be a relatively straightforward process. While some jobs require years of education and training, HVAC technicians can often get started with a high school diploma or equivalent. Many community colleges and technical schools offer HVAC training programs, which can take anywhere from six months to two years to complete. Once a technician has completed their training, they can start working as an apprentice under the supervision of an experienced technician. After several years of apprenticeship, they can become licensed and start working independently.
Becoming an HVAC technician can be a wise choice for those who enjoy a stable, rewarding, and challenging career. With good job security, the opportunity to work in a variety of settings, continual learning opportunities, the chance to help people, good earning potential, and a relatively straightforward path to entry, HVAC technicians are an essential part of the modern workforce.
Are you interested in becoming an HVAC technican? Do you want an advantage to finding employment? If yes, then our online HVAC Technician School is the perfect choice to get you going in your new career!