How to Start Your Own Bookkeeping Business
Reviewed by: Judith Kaufman, Bookkeeper & Accountant
Update: March 2023
One reason why you would consider bookkeeping school is that it opens the door to owning your own bookkeeping business! If you like working with numbers and want to help people with their business. If you are excited about the prospect of setting your own schedule, selecting your own clients or projects, and determining the workload that works for your lifestyle, you may want to consider starting a bookkeeping business. Not sure where to start? We've got a list of things to get you started.
Step 1: Write a Business Plan
Every business needs a business plan! This includes knowing what your ideal clients will look like, what your business will be named, and how you intend to grow your business. When you're naming your business, consider something easy to spell and say, as well as easy to search on the Internet! At this point, you may also want to consider how to show off your skills or what services you will offer as a bookkeeper! If you have special education or know certain software, now is the time to decide how to advertise that hard work. When you create a business plan document, you set yourself up for success.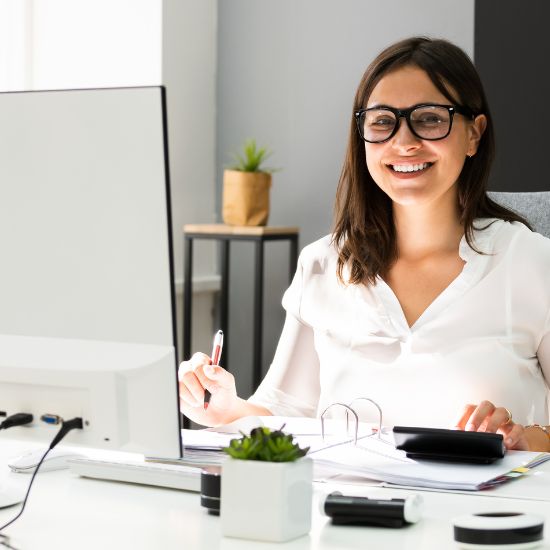 Step 2: Register Your New Business
Now that you have a business name picked out, you will need to register your company name. Please note: This process may look different in every state. Check with your local Secretary of State's office for the regulations in your location. They are there to help you start a business successfully, so use them as an asset. You will want to decide how to structure your business for tax purposes, like a Limited Liability Company, a Partnership, or even a Solo Proprietorship. You'll want to decide on any insurance you may need. The Secretary of State's office will be able to help you with these decisions
Step 3: Choose Your Bookkeeping Software
This is an important step and will help you market yourself to clients! Being an expert in a bookkeeping software will help set you apart from your competitors. Some popular options are Quickbooks, NetSuite, Freshbooks, or Xero. Will your software be cloudbased or only on your network? Once you have selected the software you will use, make sure you are confident in using it for companies of all different sizes. You will use this to create journals, reports, and financials for your clients, so being an expert is crucial.
Step 4: How Will Clients Find You?
Take some time to consider how your potential clients will find you. You may want to consider creating a website or social media presence for your business. When you do this, consider the target audience from your business plan. What are they looking for and where are they looking? Of course, there are many options for places to advertise, but not all of them are necessary. Sometimes a word-of-mouth campaign is just as effective! Create business cards or other materials you can give to potential clients.
Step 5: Create A Business Bank Account
This is a small but critical step in creating your business! Keeping your business and personal accounts separate will help not just in the day-to-day operations of your business, but will help you come tax season. Any banking institution will be happy to share their business options with you.
Step 6: Price Your Services and Book Your First Client
You've done the work, studied your software, and know your target client. Now it's time to set your pricing and find your first client! Not sure how to price your work? Check out websites like PayScale or Fiverr to find comparable rates in your area. Call around to other small bookkeeping businesses and ask what their prices are. Finding a balance may take time, so don't feel too settled in right away. Price might be something you change as time goes on and you become even more of an expert in the bookkeeping field.
After you have finished your bookkeeping certification classes and completed these steps, you've done it! Just like that, you've got a bookkeeping business under your belt. As your business grows, you may need to revisit some of these steps, especially, if you add employees or move to a new state. Don't forget to continue your education as your business grows - the more you know, the more you can offer, and the better you can serve your loyal clients.