Skills a Wedding Planner Needs
By: Katelyn Fahrenbruck Weston
Have you ever attended a wedding and wondered what went on behind the scenes? Are creative, detail-oriented, and good in high-stress situations? You may want to keep reading to find out if you have the skills that would make you an incredible wedding planner!
A wedding planner needs a diverse set of skills to plan and execute successful weddings. Every wedding is different, so don't expect two days in the office to look the same! Here are some essential skills that a wedding planner should have:
Organization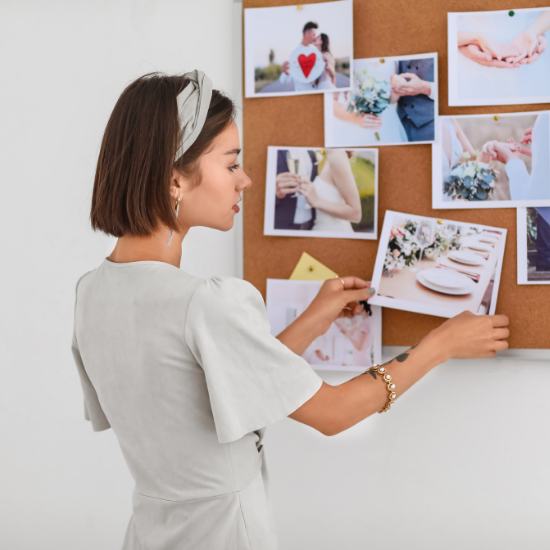 A wedding planner should be highly organized and have excellent time-management skills. They must be able to keep track of multiple tasks, vendors, and deadlines simultaneously. Wedding planners will be planning many events at the same time, which means a lot of moving pieces!
Not only will a good wedding planner have a great system during the planning of the wedding, but they'll also have a comprehensive day-of schedule. The last thing brides or grooms wants is to have to think about their schedule during the biggest day of their lives - that's why they hired you!
Communication
Communication skills are critical in the wedding planning industry. A wedding planner must communicate effectively with clients, vendors, and other professionals involved in the wedding planning process.
Weddings take many skilled workers to make happen, like photographers, caterers, florists, and DJs. As the wedding planner, you'll need to have the skills necessary to talk to each of these people. Plus, you'll also need to be able to communicate with your couple what each of these vendors will be doing.
Make room to communicate with people from every part of the wedding party, the family, and the guest list. If you're the point of contact for people with questions or concerns, everyone else can focus on just enjoying the day.
Knowledge of the Wedding Industry
A wedding planner must have a solid understanding of the wedding industry and etiquette to plan and execute a successful wedding. Knowing how to blend wedding trends, timeless traditions, and your couple's personal touches will be what sets you apart as a wedding planner.
It will also help you plan events as you build relationships with venues and other vendors! When you've created a portfolio of incredible professionals you love working with, couples will come to you not just for their wedding day, but for all your expertise within the industry. While it may take time to build a network, it will be worth it.
Creativity
Weddings require lots of creativity! Wedding planning often requires creative thinking to come up with unique ideas that will make a couple's special day memorable. Your couple will also look to you for creative ways to make their wedding beautiful and elaborate! Your knowledge will make you the go-to creative voice in the planning process.
Learn to love websites like Pinterest, so you can create cohesive moodboards for your couples. Using websites and software can help you and your clients both visualize their dream day.
Problem-solving
If you know anything about them, you know that weddings can be unpredictable, and a wedding planner should be able to handle unexpected situations. A good wedding planner will stay calm under pressure!
Attention to Detail
A wedding planner must have a keen eye for detail to ensure that all aspects of the wedding are executed flawlessly. The best wedding planners are the ones paying the most attention to the needs of each particular couple and event.
Budgeting
And finally, a wedding planner must be able to create and manage a budget for the wedding, ensuring that all expenses are accounted for and kept within the budget. Weddings are notoriously expensive and a wedding planner will help make sure a couple's dollars are being spent in the best way.
While this may not be comprehensive, these skills will get you a great head start in the wedding industry. With over two million weddings happening in the United States every year, it is a booming industry to dive into. What could be better than celebrating some of the best moments of people's lives alongside them?