Marketing is an ever-changing industry, constantly adjusting to new technologies and trends – and that's just one reason it's so cool. Marketing jobs are as varied as can be, with openings in every industry imaginable, from fashion to tech, health care and more. If you're the kind of person who can think creatively and work in a fast-paced and always-changing environment, you're the perfect candidate for a fun career in this field. Take a look at five of the coolest jobs you can get with an associate degree in marketing:
1. Digital Marketer
Digital marketers are characterized by their passion for and knowledge of anything technology-related, from new apps to social media platforms and everything in between. As a digital marketer, your job is to create fun and interesting campaigns for your clients using all of those trending digital platforms, most often with the end goal of attracting more customers. You'll be tasked with building user-friendly websites, sending out social media blasts and putting together email newsletters, among many other projects.
2. Media Specialist
Media specialists, also called public relations specialists, are in charge of selling companies or clients to the media. As part of a PR "spin" team, you'll help write press releases, talk to the media and manage your clients' public image in a variety of other ways. The perfect job for sociable people, media specialists should love writing and know how to turn anything – even PR nightmares – into a positive outcome for their clients.
3. Retail Sales Manager
If you've ever worked in retail, you know that there's so much more to it than just putting products on shelves and racks and opening for business. Being a retail sales manager requires a lot of out-of-the-box thinking and an instinctual knowledge of how best to sell the products in the store. If you're customer-service minded and a great leader, you may want to consider a retail sales management career.
4. Market Research Assistant
Market researchers' jobs are a little different than typical marketing careers. Instead of helping a company or client market a product or service, they actually perform research to see what products people want. Usually market research analysts work with businesses to discover what types of products are in demand and who to sell them to.
5. Event Marketer
Event marketing is arguably one of the coolest jobs in the field because it allows marketing professionals to work face to face with the people they're targeting. Events can range in size and style from large-scale conventions to small in-store product demonstrations. For that reason, event marketers will never have the same day twice. In fact, they're constantly contacting new retailers and organizing upcoming events to help market their products to the masses. If you're organized, social and energetic, event marketing might be the perfect career choice for you.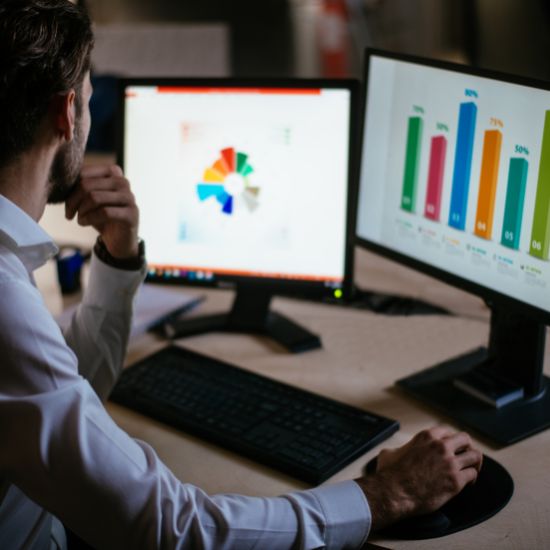 How to Get Great Jobs with an Associate Degree in Marketing
Marketing is one of the most popular industries for college students, which means it's important to set yourself apart from others pursuing similar careers. If you're looking for a cool marketing job after graduating from U.S. Career Institute's Distance Learning Marketing School, the best way to get your foot in the door early is through an internship. Many jobs in the industry consider previous experience a huge plus, and the knowledge and skills you gain from an internship will only be beneficial to you in your future career.
---
U.S. Career Institute also offers online training for many other great careers
Do you like animals? You might find satsifaction with a career as a veterinary assistant. Take a look at our online veterinary assistant program. If healthcare holds more interest for you, you should investigate our online dental assistant course, our online medical coding and billing course, or our online pharmacy technician course.