Pros and Cons of Homeschool For High School
Is homeschooling for high school an option you are considering for yourself, your child, or a loved one? It may not be the most traditional path for high school, but there are many reasons homeschooling might lead to greater academic success.
We've created a list of pros and cons for you to consider if homeschooling is better for your educational outcome, but first, let's talk about the basics of homeschooling!
What is Homeschooling
Homeschooling is any type of school that happens outside the typical school classroom. It means the responsibility for a student's education is with the parents, instructors, or the student themselves, as opposed to an institution.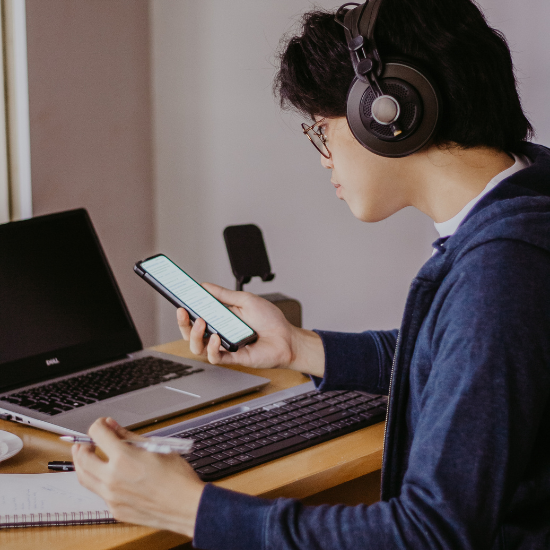 Due to the rising popularity of homeschooling across the nation and around the world, there are always new ways to complete classes at home. There are programs, like USCI's online homeschool program, that help cover the material you will need to move forward through your education.
Who is Homeschooling Meant For?
Anyone can succeed at homeschooling! Finishing high school at home is an option for every learner, whether or not they thrived in a traditional classroom. You can also homeschool for high school as an adult, or if you need flexibility in your schedule.
Traditional students and adults of any age may find homeschooling helpful for them, with the right amount of dedication and the right homeschooling plan or program.
What are the Pros and Cons of Homeschooling?
It's true that homeschool can be a great option for some learners. However, that doesn't mean it doesn't have its drawbacks. Read on for our list of pros and cons about homeschooling for high school so you can make the best decision.
Homeschooling Pros
Learn in a quiet, personalized environment: Homeschooling means learning on your terms. You can study whenever and however you need, rather than being stuck in a classroom! Without feeling confined to learning at a certain location, you can learn in a place that you feel most comfortable in.


Flexible schedule and curriculum:When you homeschool, you can study at the pace you need to learn the subjects and materials. You won't feel pressured to learn along with everyone else in a classroom, you can take as little or as long as you need to feel confident in what you have learned.


Avoid school-specific stresses: When you homeschool, you can avoid many of the social stresses that come with being around groups of other students! Those can include bullying, racism, peer pressure, or other negative social and emotional situations. Your focus can be on thriving in your academic studies without the additional pressure.


Get a head start on a career path: Homeschool and online learning programs can be tailored towards a specific career path and to your areas of interest! If you or your student is committed to going into the healthcare field, for example, elective classes in those areas can be added to a curriculum. Those classes can help you get a jump start on any continuing education in the future.


Stability in school during global events: Consistency is critical to having a good educational outcome. Traditional school environments may experience prolonged interruptions like global health events or other crises. When you homeschool, you can keep a consistent schedule no matter what is going on outside your front doors.
Homeschooling Cons
Fewer resources available: In a homeschool environment, some classes may have to look different. You won't have access to a gymnasium, science lab, or an auditorium. This may be something that impacts the subjects you're able to study at home.


Loss of school-related activities:If you play sports or want to be involved in theater, you may have to get creative by adding those back into your schedule as a homeschool student. You or your student may also miss out on things like school fundraisers, dances, or pep rallies.


Expenses may add up: When you are responsible for your own education, it can be expensive to purchase the books, materials, and other things you may need. When you are in a traditional public or charter school, those expenses are paid on your behalf.


More time and effort must go into your education: Homeschooling requires lesson planning, time management, and dedication. Some students may find it difficult to self-motivate to learn when they don't have the influence of a teacher or peer group.


Could Homeschooling be the Right Fit for You?
There are a number of things to consider when you look for ways to finish your high school diploma. Evidence suggests that for some students, homeschooling is directly related to better educational outcomes, especially in the high school years. Homeschooling doesn't have to be intimidating! There are online homeschool programs and resources to assist you or your student on the path to success. If homeschooling seems like a good fit for you then check out our online high school homeschool program and get started today!