Pros and Cons to Being a Paralegal
By: Katelyn Fahrenbruck Weston
Like any career, there are pros and cons to being a paralegal! If you're considering becoming a paralegal, it's important to keep those in mind. We've got a list for you here!
Paralegals are an important part of the legal profession. They work alongside attorneys to provide legal assistance to clients. They perform a range of tasks, including drafting legal documents, conducting research, and communicating with clients. While there are many benefits to being a paralegal, there are also some drawbacks.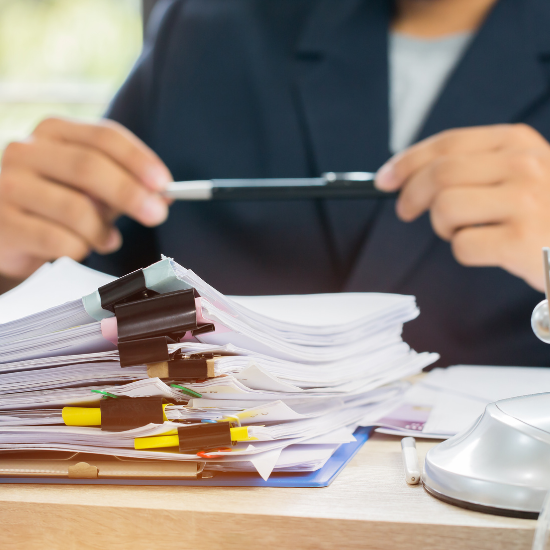 Pros of Being a Paralegal
Job Stability and Demand

Paralegals are in high demand, and the job outlook for paralegals is excellent. According to the Bureau of Labor Statistics, employment of paralegals and legal assistants is projected to grow 10 percent from 2019 to 2029, much faster than the average for all occupations. This is due to the increasing demand for legal services in many industries, including healthcare, finance, and real estate.

Good Salary and Benefits

As a paralegal, you can earn a good salary and may even have a high level benefits package. According to the Bureau of Labor Statistics, the median annual wage for paralegals and legal assistants was $56,230 in June 2022. Paralegals may also receive benefits such as health insurance, retirement plans, and paid time off.

Varied Work

Can't stand the thought of doing the same thing every day? That's just fine! Paralegals have a varied and interesting workload. They work on a wide range of legal matters, from criminal law to family law to intellectual property law. This means that no two days are the same, and there is always something new to learn.

Opportunities for Career Growth

The opportunity to grow in your career as a paralegal has many pathways. With experience and additional training, paralegals can become senior paralegals, legal analysts, or even law firm managers. Some paralegals even go on to law school and become attorneys.
Cons of Being a Paralegal
Long Hours and High Stress

Paralegals often work long hours and may experience high levels of stress. They may have to work overtime to meet deadlines, and they may have to deal with difficult clients or complex legal issues. Your ability to work late into the evening or even on weekends may be put to the test as a paralegal!

Limited Job Autonomy and Legal Knowledge

Paralegals work under the supervision of attorneys and have limited job autonomy. They cannot give legal advice or represent clients in court. They must follow the directions of their supervising attorneys and may have little control over their workload. Because there is no advanced education required for a paralegal, they will have to rely heavily on their supervising attorneys for in-depth legal knowledge. They cannot provide legal advice to clients or represent them in court.
In conclusion, being a paralegal has both pros and cons. Paralegals enjoy job stability, good salaries, varied work, and opportunities for career growth. However, they also work long hours, experience high levels of stress, have limited job autonomy and growth potential, and have limited legal knowledge compared to attorneys. Ultimately, whether being a paralegal is right for you depends on your personal and professional goals, interests, and skills. If you are interested in the legal profession but do not want to become an attorney, being a paralegal may be the best fit for you! If a career as a paralegal seems right for you check out our online paralegal school!
*Bureau of Labor Statistics, U.S. Department of Labor, Occupational Outlook Handbook, Paralegals and Legal Assistants, on the internet at https://www.bls.gov/ooh/legal/paralegals-and-legal-assistants.htm, (visited September 26, 2023). Statements found in the United States Department of Labor Occupational Outlook Handbook are not a guarantee of any post-graduation salary, in part because the data used to create the Occupational Outlook Handbook includes workers from differing educational backgrounds, levels of experience, and geographic areas of the country.