A High Schooler's Guide to the College Application Process
By: Katelyn Fahrenbruck Weston
Applying to college can be a big, scary undertaking. High school students are expected to take on this challenge while also balancing high school classes, extracurricular activities, family commitments, a part-time job, and a social life. Some high schools do a great job explaining the process, but not all of them offer this level of support. The first step for high schoolers to be successful on their journey to college is to understand exactly what the application process looks like, what the timeline is, and what they will need to do to get into the college of their choice.
Starting Your Journey
Preparing for college should ideally start during the first year of high school, but junior year is when the process really ramps up. Students should make a preliminary list of colleges they are interested in and learn more about them. They should start preparing to take standardized admission tests like the ACT and SAT; lots of students choose to take these tests for the first time during the spring of their junior year.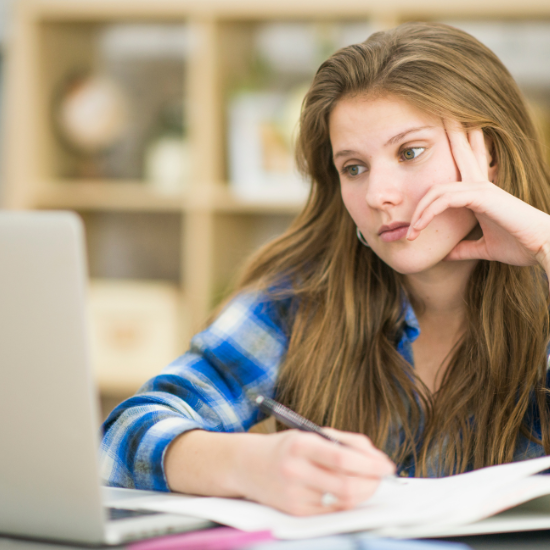 Many students and families go on campus tours over spring break. Once students start their senior year, they may take the SAT and/or ACT for the final time. They also should have a final list of the schools they will be applying to and should spend some time creating a timetable of when the various applications are due. Financial aid applications are typically due starting in October, while college admissions applications are due before the end of the fall semester. Students should reach out to employers, mentors, teachers, and counselors they plan on asking to write letters of recommendation. Serious time should be devoted to writing and editing college essays. Students also have to request that their schools send out their transcripts to the colleges of their choice. Some colleges require interviews; those should be scheduled as well. Acceptance letters and information about financial aid awards will start arriving around April. Most schools require a decision (and a deposit) by May 1.
Organizing Your Applications
It's important to stay organized throughout the application process. The best way to begin is by putting all important dates on a calendar. These should include dates of standardized testing, when financial aid applications are due, when early admissions applications should be turned in, and the deadline for all other college applications. Another great idea is to make a checklist for each college. College applications have a lot of moving parts, and different schools might have slightly different requirements.
Application Components
Most colleges require an application made up of many parts. The first part is the application itself, which is how the college gets to know the basics about the student. Part of the application is the personal essay, something students need to spend time working on and tweaking. Next are high school transcripts. Many schools also want standardized test scores. Some schools want writing samples beyond the essay, and some schools require a portfolio of the student's work.
Preparing for Interviews
There are two types of college interviews. One is the informational interview, which gives the student the chance to learn more about the school. The other type is the evaluation interview. The good news is that generally, only colleges that are very competitive to get into still use this type of interview. If an interview is required, the student should dress nicely. They should practice beforehand; community groups or their own guidance counselor may be willing to hold a mock interview to help the student get used to the process. Students should spend time researching the college and practicing articulating exactly why they want to attend.
Applying for Scholarships and Financial Aid
The first step in applying for financial aid is completing the Free Application for Federal Student Aid, or FAFSA. Almost all schools require students and families to fill out this form. Some families don't bother because they don't think they'll qualify for federal aid. But even for scholarships not based on financial need, most schools will require that you file the FAFSA. It's also a good idea for students and their families to learn about the various types of aid available. Look at the website of each school to see what it offers. It's also important to know the difference between scholarships, grants, loans, and work-study programs.
Making a Decision
Once upon a time, students knew that they were accepted when they received a fat envelope from a college. Now, most students find out when they log into the college's online portal. The excitement is still the same, though. Many students will find that they've been accepted into more than one school. Then, they'll need to decide where to attend. The amount of financial aid awarded and the total cost of attendance is a major factor in this decision for almost everyone. However, it's important to also choose a school based on the programs it offers and how good of a fit it is for the student.