The Difference Between Bookkeeping and Accounting
By: Katelyn Fahrenbruck Weston
Many people use the terms bookkeeper and accountant interchangeably, however, they are not the same thing! Not sure what the difference is, or wondering if you've been using them wrong, read on! We've got all the facts on what makes them different and details about how to know which is which.
Let's make it as simple as possible!
The difference between bookkeeping and accounting is that bookkeepers keep detailed financial records of a company's earnings and expenses, while an accountant uses that information to help a company make financial decisions for the future. In short, a bookkeeper will compile data for an accountant to use. However, those aren't always the only differences.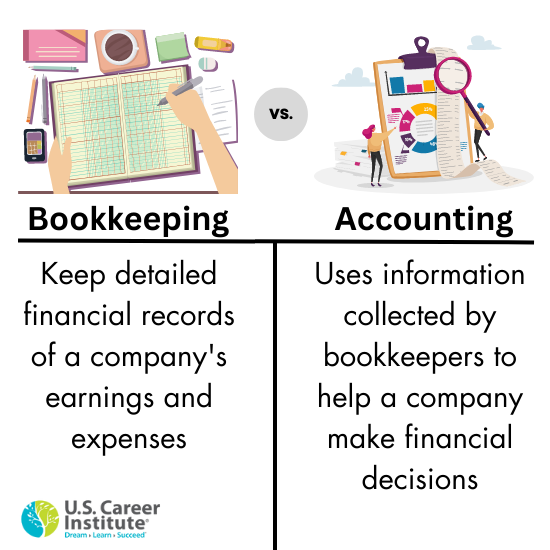 Bookkeepers will:
Use software to keep track of invoices
Manage payroll information
Keep journal entries about company spending
Complete other tasks to maintain a record of all financial data for a company or individual
As you can see, a bookkeeper plays a vital role in keeping the day-to-day financial records of a company in order. Without bookkeeping, a company might miss invoices, not meet payroll deadlines, or have mismatched accounts.
Accountants will:
Audit and prepare taxes for an institution quarterly or annually
Make long-term adjustments to accounts and inform key players
Set goals and forecast, keeping an eye on areas a business can improve
Generate financial documents that will help share financial information
Without accountants, businesses may not file their taxes properly or have the information they need to set new financial goals.
Do bookkeepers and accountants need the same credentials?
In short, no! Bookkeeping and accounting as careers require very different qualifications.
Bookkeeping does not require a degree. It also may not require any special licensing. However, there are two organizations that will license and certify your skills as a bookkeeper - the American Institute of Professional Bookkeepers (AIPB) and the National Association of Certified Public Bookkeepers (NACPB) - if you find yourself wanting or needing a certification! Each of these two options come with specific prerequisites, so you may want to research which is best for you!
Accountants almost always have a degree in accounting or finance. Some even go further and get special certifications! One of those you may have heard of is the CPA certification, or the Certified Public Accountant certification. However, there are a few lesser-known certifications that accountants could get to showcase their advanced knowledge.
Do I Need a Bookkeeper or an Accountant?
Deciding if you need assistance with bookkeeping or accounting may be challenging! They have some overlap, plus, some accountants will also work as bookkeepers. If you're looking for someone to help you keep track of daily expenses, help with payroll, or create invoices, you may need a bookkeeper. If you need help filing your taxes, solving long-term financial questions, or planning for your future, that may be better suited to an accountant.
Because they have additional credentials that take longer to receive, an accountant will likely be more expensive than a bookkeeper. Remember that when you consider your options!
Can I Become a Bookkeeper or an Accountant?
You absolutely can become a bookkeeper or an accountant! It all depends on what you're interested in and how long you would like to study for. If you want to jump right in, consider taking a course on bookkeeping. Often, those can be completed online in just a few months so you can get right to work. A good online program will include topics like payroll, business skills, and how to use bookkeeping software.
Accounting may require a degree and/or certifications, which will take longer to complete. If you are interested in becoming and accounting you can take our online accounting degree or certificate program. Accountants find jobs in-house at large companies or in accounting firms, which may have room for career growth. Either option can be a great career path for the right person!