Get on a career path that enables you to show your versatility in an office environment. Learn how to manage offices and how to support people within a business. While secretaries and administrative assistants work in nearly every industry, many are concentrated in schools, hospitals, government agencies, and legal and medical offices.
Growth Potential & Career Opportunities
Earn up to $39,680 a year!*
Become an important member of a business environment
Work for local and state government
Be a part of a growing industry
USCI Career Coach Program
We invest in you-up to $400 Value**
After completing your online office administrator certificate course, our Career Coach Program is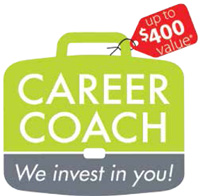 an included benefit that will give you one-on-one access to a Career Coach Advisor. Our course and Career Coach Program can prepare you with the skills needed to help you start your new career. Read about the program's requirements and guidelines in the Career Coach Program Outline.