Do you want to work with animals? Our online veterinary assistant school may be a great option for you. Become a Veterinary Assistant and learn how to care for all shapes and sizes of animals. This career is projected grow for years to come. You can be part of a busy veterinary clinic in your community. Enjoy a career doing what you love—helping animals and their owners.
Why Choose Veterinary Assisting?
Work for an animal hospital or private clinic
Help keep animals healthy
Work in a growing industry
There are thousands of independent veterinarian offices throughout the United States,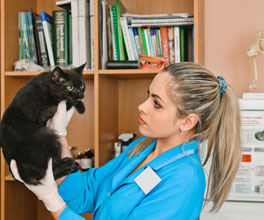 but that's only a small fraction of the places where animal caregivers are employed. In pet stores, kennels, breeding and livestock farms, grooming salons, ranches, zoos and many more places, you'll find qualified Veterinary Assistants providing important services.
If you're excited by the thought of working in an animal care facility or if you've always dreamed of joining the animal care team assisting veterinarians, then by all means let U.S. Career Institute help you turn that passion into a reality!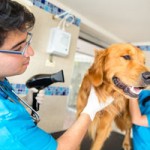 All Veterinary Assistants have one thing in common — a deep love of animals and a sincere desire to help them. The men and women who work in this field put that love to work every day in an unusually wide variety of important jobs. Our program can give you the qualifications you need to join them.
What You'll Learn In Your Online Veterinary Assistant Training
Our Veterinary Assistant program is now available with Electronic or Hard Copy Lesson Books! Click here for more information.
Proper Handling and Restraint of Animals
Physical Examination of Animal Patients
Grooming, Manicuring and Bathing
Animal and Medical Terminology
Anatomy, Immunity and Vaccinations
Exotic Animals: Care and Handling
Disease Conditions, X-rays, Preparing for Surgery
Assisting the Surgeon and Postoperative Procedures
Anesthesia for Animals and Giving Medicine
Quarantine, Diets and Dental Care
For the full Veterinary Assistant course outline, please visit our Course Outline page.
Veterinary Assistant Course That Fits Your Life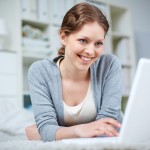 In as little as four months you can be ready to start working as a Veterinary Assistant. And our self-paced online veterinary assistant school training means you can study anytime, anywhere. With this online veterinary assistant certificate course, there are no in-person veterinary classes to attend and no schedules to keep. Our Veterinary Assistant program will teach you everything you need to know to start working as a Veterinary Assistant'no previous experience needed.
Veterinary Assistant Program Tuition and Financing
Tuition for our Veterinary Assistant program is all-inclusive! You'll receive your electronic lesson books, supplements, instructor assistance and unlimited career support for graduates—all included in your tuition.
We strive to ensure our Veterinary Assistant program is both flexible and affordable. This is why we offer low, monthly payment options for every student. We are committed to providing you with a high-quality education at an affordable price. Make an investment in yourself today!
For more information, please visit our Tuition and Financing page.
Join the thousands who have trained with U.S. Career Institute. Get started on your online veterinary assistant program today and be ready to work in as little as four months!