U.S. Career Institute is committed to making your education as easy as possible! That's why, we offer most course materials as Electronic Lesson Books. Never worry about transporting heavy books or piles of paper again – you'll have electronic access to all your lessons. And, this is all included in your tuition! Your materials will be delivered in electronic format at no additional cost.
And you'll be able to choose the format you prefer. If you wish to complete your coursework on a home computer or laptop, we'll deliver it right to your screen. Or if you prefer the ease and fle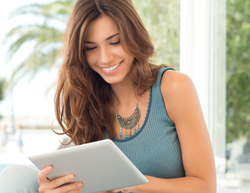 xibility of your Kindle, Nook, smartphone, iPad® or tablet, that's where your lessons will be. It's all up to you. Every Electronic Lesson Book will be easily accessed through your student account located within this website.
As soon as you enroll, you will receive an email from us with your username and password* for your student account. Simply click on the Student Login button, follow the onscreen directions and you'll be on your way to training for your new career. A few days after you enroll, you'll receive a full information pack from us right away. This will contain everything you need to complete your assignments, plus much more! If you have specific questions regarding our Electronic Lesson Books, please call us at 866-780-8583.
Hard Copy Lesson Books
Here at U.S. Career Institute, we teach to a classroom of one and we know that no two students are alike. Therefore, hard copy lesson books are available for under $50. If you prefer hard copies of your materials, you can easily order them online or by phone after enrolling.
Enroll today and receive your materials instantly!
*If you do not have an email address, this information will be sent to you in your first information pack.