Play a vital role in your company's technological future with U.S. Career Institute's CompTIA training. There's never a dull moment in the fast-paced, exciting and in-demand world of IT. Help your fellow employees work efficiently and securely through your knowledge of information technology.
Growth Potential & Career Opportunities
Earn up to $62,770 a year!*
Work in a variety of fields—healthcare, business, legal and more!
Be a part of a secure, growing industry.
The U.S. Department of Labor projects the growth for computer network support specialists jobs to increase 6% by 2028.**
Certification
Upon graduation from our program, you will receive your U.S. Career Institute Certificate of Completion attesting to your accomplishment. U.S. Career Institute's certification training program prepares you to sit for the CompTIA Network+ Certification exam. In order to master your skills, you are given access to the online simulation software to practice the knowledge you have attained in the book portion of the course. As a graduation gift, we'll send you the voucher code to take the Network+ Certification exam –a $302 value!+
USCI Career Coach Program
We invest in you-up to $400 Value***
After completing your certificate course, our Career Coach Program is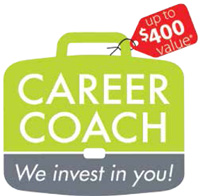 an included benefit that will give you one-on-one access to a Career Coach Specialist. Our course and Career Coach Program can prepare you with the skills needed to help you start your new career. Read about the program's requirements and guidelines in the Career Coach Program Outline.