Do you like spending time with your kids, but also want a rewarding career?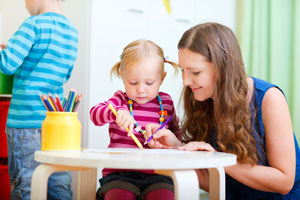 Become a Child Day Care Specialist with this online child day care certificate course and get paid for doing what you love! The need for child day care workers is rising quickly as more parents enter the workforce. Work for a day care center, preschool, or get a day care license and start a day care business in your home.
Why Choose Child Day Care?
Start your own in-home day care and be your own boss
Be home for your children
Work full or part time
Busy, working parents are looking for qualified Child Day Care Specialists who can supervise, educate and nurture their children while they work. Parents want someone they can trust to provide the best care possible in a healthy and happy environment.
As a Child Day Care Specialist, you can make a career out of helping these children and their families. And have fun while you do it!
The need for child care is rising because the number of children requiring childcare is expected to grow. Demand for childcare workers is expected to grow as well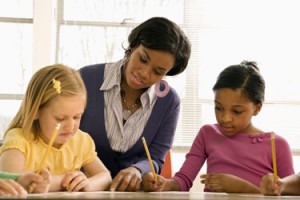 and this demand will produce an increase in child care jobs. The U.S. Department of Labor projects the growth for Child Day Care jobs to increase 7% by 2026.* Some of these new Child Day Care Specialists will work for preschools and day care centers. Many will be self-employed, starting their own in-home day care business.
In the past decade, early childhood education has become widely recognized as important for children's development. Childcare workers often work alongside preschool teachers as assistants. This continued focus on the importance of early childhood education will also spur demand for preschool programs and thus for childcare workers.
What You'll Learn In Your Online Child Day Care Specialist Training
Our Child Day Care program is now available with Electronic or Hard Copy Lesson Books! Click here for more information.
Child Care Today
Preschool Children
School-age Children
Child Development Theories
Children and Nutrition
Keep Children Healthy and Safe
State and Local Regulations
Create a Business Plan For Your Day Care
Defining Discipline
Special Needs Children
For the full Child Day Care Specialist course outline, please visit our Course Outline page.
Child Day Care Specialist Course That Fits Your Life
In as little as four months you can be ready to start working as a Child Day Care Specialist. And our online day care school training means you can study anytime, anywhere. With this online child day care specialist certificate course, there are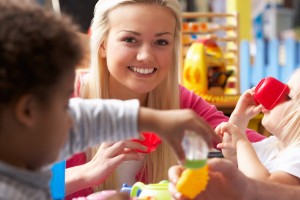 no in-person child day care classes to attend and no schedules to keep. Our Child Day Care program will teach you everything you need to know to start working as a Child Day Care Specialist'no previous experience needed.
Child Day Care Specialist Program Tuition and Financing
Tuition for our Child Day Care Specialist program is all-inclusive! You'll receive your electronic lesson books, supplements, instructor assistance and unlimited career support for graduates ' all included in your tuition.
We strive to ensure our Child Day Care Specialist program is both flexible and affordable. This is why we offer low, monthly payment options for every student. We are committed to providing you with a high-quality education at an affordable price. Make an investment in yourself today!
For more information, please visit our Tuition and Financing page.
Join the thousands who have trained with U.S. Career Institute. Get started on your child day care specialist program today and be ready to work in as little as four months!