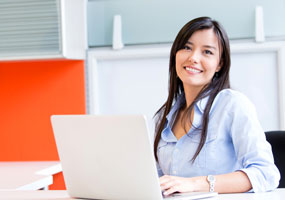 According to the Centers for Disease Control and Prevention, there are nearly one billion doctor visits in this country every year. After every one, the doctor makes notes about the visit that must be transcribed and formatted. That's where a Medical Transcriptionist comes in. As a Medical Transcriptionist you'll transcribe and format those notes. And with all of those doctor visits, there is plenty of demand. With experience, Medical Transcription can be a great work-at-home career!
Our Medical Transcription program is now available with Electronic Lesson Books! Click here for more information.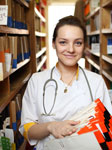 Work in the healthcare industry
Learn human anatomy and medical terminology
Explore how medical health records are transforming healthcare
Learn about the tools Medical Transcriptionists use everyday
With U.S. Career Institute's online Medical Transcription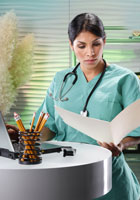 school, you'll be on your way to earning up to $40,000 a year!*  And our self-paced online medical transcription training means you can study anytime, anywhere. In this online medical transcription course, there are no in-person classes to attend and no schedules to keep. Join the thousands who have trained in medical transcription with U.S. Career Institute. Get started today and be ready to work in as little as four months!