Start a rewarding new career in the healthcare industry with a course from our online medical coding school! As a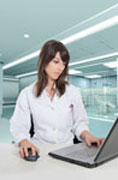 Medical Coding Specialist, you'll help connect doctors, patients, hospitals and insurance companies. Without trained Medical Coders who can translate every diagnosis, procedure and supply into a handy code, the healthcare industry would come to a stand-still. And because nearly every visit to the doctor or hospital requires properly coded documentation, the demand for Medical Coding Specialists continues to grow.
Our Medical Coding program is now available with Electronic Lesson Books! Click here for more information.
Work in the healthcare industry
Work at home in medical coding or work for an employer
Learn human anatomy and medical terminology
Explore diagnostic and procedure coding
Learn how to use coding software and the Internet to boost your earnings
With U.S. Career Institute's online Medical Coding course, you'll be on your way to earning up to $44,000 a year!*  And our self-paced online medical coding training means you can study anytime, anywhere. There are no in-person medical coding classes to attend and no schedules to keep. Join the thousands who have trained for medical coding certification with U.S. Career Institute. Get started today and be ready to work in as little as four months!