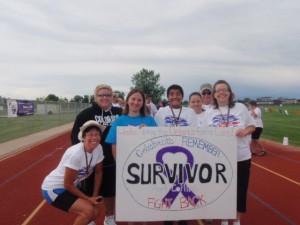 (June, 2012) Weston Distance Learning Inc. is a company dedicated to others. Reaching beyond the valuable service they offer to their students, Weston Employees strive to give back to the local community at every opportunity.
Company fundraising over the past several months raised over $1,500 for the American Cancer Society's Relay For Life. Employees Natasha B., Jasmine B. and their planning team worked hard to organize raffles, events and even morning coffee sales to raise money. And the rest of the Weston team rallied to the cause with generous contributions and enthusiastic participation.
Jane B. in the Creative department at Weston says, "It's great to help a cause that we believe in. I think many of us have had experience with cancer in some way, whether through friends, family or personally so it's something that brings us closer together. Plus, it feels good to work for a company that cares about the community."
Weston supported employee efforts by matching the first $550 of fundraising. And several employees went to the local Relay for Life event to represent the company. The event was a success and everyone enjoyed the positive atmosphere of hope and support. Weston was proud to be part of such a great cause.