If you are looking for a secure career with a good, steady income, then there's no need to look any further. Our online dental assistant school could be the answer to your needs.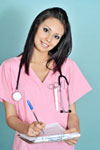 Become a Dental Assistant and work with dentists and hygienists to improve patients' health. Everyone needs quality dental care. And with the population continuing to grow, that means a growing demand for dental services and dental assistants!
Our Dental Assistant program is now available with Electronic Lesson Books! Click here for more information.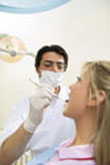 Learn front-office procedures like scheduling, billing, and processing dental insurance
Learn back-office procedures like prepping for surgery and helping with cleanings
Work in a growing industry
Help put a bright smile on people's faces
Dental Assistant Certificate
With U.S. Career Institute's Online Dental Assistant Program, you'll learn everything you need to know to become a dental assistant and earn up to $40,000 a year* in a secure and rewarding dental assisting career.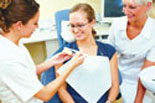 And our self-paced dental assistant training means you can study anytime, anywhere. Because our dental assistant course is online, there are no classes to attend and no schedules to keep. Join the thousands who have trained with U.S. Career Institute. Get started today and be ready to work in as little as four months!