As a bookkeeper, you will enjoy a good, steady income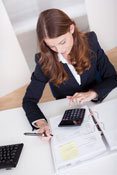 and job security. Few businesses can get along without a bookkeeper!  That's why your interest in our online bookkeeping school may turn out to be great for your career.  Bookkeeping demand is projected to grow in the coming years. Almost 2 million people in the U.S. have chosen to work in Bookkeeping and Accounting! Here's why: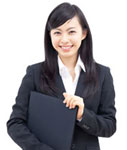 Enjoy job security and advancement potential
Master bookkeeping basics that apply to any business
Work in any industry
Start your own business
Our Bookkeeping program is now available with Electronic Lesson Books! Click here for more information.
Online Bookkeeping Training
With U.S. Career Institute's online Bookkeeping training, you'll learn everything you need to know to get your bookkeeping certificate and earn up to $40,000 a year* in this rewarding career. And our self-paced online
bookkeeping course means you can study anytime, anywhere. There are no in-person bookkeeping classes to attend and no schedules to keep. Join the thousands who have trained with U.S. Career Institute's online bookkeeping school. Get started today and be ready to work in as little as four months!