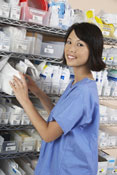 Pursue a career as a Pharmacy Technician and play an important part in the healthcare industry. Your skills will be essential in many settings. Choose to work in a hospital, a drug store or for a mail-order pharmacy. Pharmacy Technician jobs are projected to increase for years to come.
Our Pharmacy Technician program is now available with Electronic Lesson Books! Click here for more information.
Enjoy job security
Work in a growing industry
No previous medical experience is necessary
Improve patient health
Online Pharmacy Technician School

As a Pharmacy Technician, you will work closely with physicians and patients. You'll find that U.S. Career Institute's online Pharmacy Technician school covers all of the subjects you'll need to earn up to $35,000 per year.* You'll learn about drug types, dosages and your role in the healthcare industry. And our self-paced online pharmacy technician training means you can study anytime, anywhere. There are no classes to attend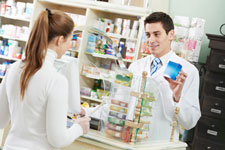 and no schedules to keep. Join the thousands who have trained with U.S. Career Institute. Get started with your online pharmacy technician course today and be ready to work in as little as four months!